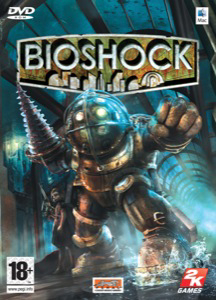 Products
BioShock Infinite: Clash in the Clouds (download): £2.99
Bioshock Infinite: Columbia's Finest (download): £2.99
BioShock Infinite: Burial at Sea - Episode 1 (download): £10.49
BioShock Infinite: Burial at Sea - Episode 2 (download): £10.49
BioShock (box): £13.99
BioShock 2 (box): £13.99
BioShock Infinite: Season Pass (download): £13.99
BioShock Infinite (download): £19.99

System requirements:
DVD drive
Mac OS X 10.5
1.4GHz Intel Mac Core Duo
8GB HDD
1500MB RAM
128MB VRAM
BioShock does not support Intel GMA series graphics cards.
Ryan Industries recommends against the use of Incinerate and Winter Blast plasmids while playing BioShock, and takes no responsibility for melted or frozen keyboards.
File size: 8.0 GB (approx)
Downloads

Bioshock demo(BitTorrent file)

Link for the demo version of Bioshock.
Click here to start downloading.


Transmission BitTorrent

We recommend the Transmission BitTorrent client for Mac users, as it's a small download, and easy to set up and use.
Click here to start downloading.