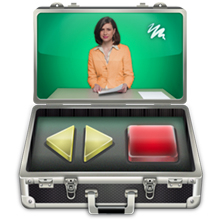 Products
BoinxTV (box): £369.99

System requirements:
Mac OS X 10.5
Mac OS X 10.6

I agree with the
privacy policy
.
BoinxTV
Live television studio for the Mac - Live to Disk, Internet and Stage
BoinxTV is an amazing audiovisual mixing tool for recording video podcasts, sports events, concerts, interviews, sermons, lectures, speeches, seminars and more using just your Mac and up to three cameras.

A simple and acessible user interface will allow a single person to operate BoinxTV during the recording session. Because it runs on a MacBook Pro it can be used in the field easily.

Video podcasters currently have to spend many hours editing their takes to get a professional looking result. Post-production is a time-consuming part of their workflow. BoinxTV is a game changer. BoinxTV turns your Mac into a live-production studio and can reduce your overall production time dramatically.
Features:
Chroma Key
Substitute the studio background with a movie, image or a camera input.
Sophisticated chroma keying with green or blue screen or any other color.
Artificial shadow suggests depth.
Support for "Veescope Key's Softlyght keyer for BoinxTV"
Video Input
Use QuickTime compatible video sources such as DV cameras with FireWire (sometimes called i.Link or IEEE1394), HDV cameras (if - they support progressive mode), HDMI cameras (with HDMI interface card such as Blackmagic Design Intensity), iSight camera, USB webcams (if supplied with QuickTime driver) and many more.
Screen grabbing to include video chats (Skype, iChat) and presentation slides (PowerPoint, Keynote).
Apply core video filters to any video source to create amazing effects.
Play back any (unprotected) QuickTime movie.
Audio Input
Use any audio device available in your system.
Integrate with Soundflower and other audio routing utilities for audio interviews with Skype, iChat and others.
Adjust volume for each layer separetely.
Output
Record directly to disk as QuickTime file.
Play out simultaneously over second screen connector.
Convert to Internet stream using external converter or 3rd party software. (not included)
Convert to SDI using external converter (not included)
Submit to Apple Podcast Producer automatically after recording.
Execute an AppleScript after recording.
Layers
BoinxTV ships with more than 50 layers. And you can make your own too!
New features in 1.9
OS X Mountain Lion compatible
Preview uses full Retina Display resolution for more accurate renderings and more enjoyable user experience
Replaced JavaScript with Lua in Layers for improved stability
Audio Engine completely rewritten for better performance, higher quality and less latency
New Wiki Documentation as a resource for all BoinxTV users