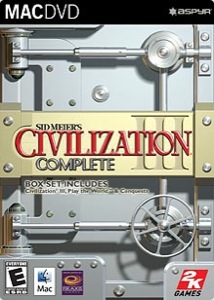 Products
Civilization III Complete (download) (box): £13.50 (£13.99)

System requirements:
Mac OS X 10.3.9
Mac OS X 10.7
500MHz G4
2GB HDD
256MB RAM
I agree with the
privacy policy
.
Civilization III Complete
Includes Civ III and the expansion packs Play The World and Conquest
Sid Meier's Civilization III: Complete includes Civilization III plus the Play the World Multiplayer and Conquests expansion packs. Civilization III: Complete provides more ways to win, more ways to explore, more strategies to employ, and more exciting modes of play all in one box! Civilization III: Complete gives Civ fans the opportunity to enjoy unmatched strategic gameplay alone or against players from around the world.
Features:
Dominate the world through Diplomatic Finesse, Cultural Domination and Military Prowess
Build a civilization from humble beginnings.
Explore uncharted territories.
Conquer enemies through brute force or cultural finesse.
Lead your civilization to greatness.
Match wits against 31 of history's greatest leaders.