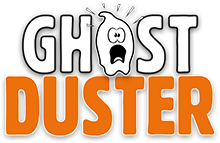 Products
Ghost Duster (box): £9999.75

System requirements:
110/250 V electrical power outlet
15 MW fuse
I agree with the
privacy policy
.
Ghost Duster
The next generation ghost hunting device
A 21st century ghost hunting device for the rest of us. Plug & Pay disinspectation.


What is it all about?
Let's be honest - a ghost in the house can be a real pest. For hundreds of years humanity has accepted all kinds of hauntings as a given. The side effects are obvious: sleepless nights, headaches, electronic smog and often even physical damages in the house - just to name a few. We want to put that to an end. Introducing Ghost Duster, the powerful dematerializer for almost all types of hauntings.
This masterpiece of German engineering is a real breakthrough in surreal technology. It is non-destructible ghost capture, 100% eco friendly and we do not use any preservatives to keep the ghosts fresh once they are trapped. We have teamed up with highly experienced Pagan Industries for the future manufacturing process.
As a safety measure we secure the device with a mechanism that we call the Greencard. This is revolutionary because in the past it has been really hard to get one. With this product it changes. Each box contains a Greencard for sure!
How does it work?
Ghost Duster comes with a unique detector for tele atomistic activities and transfield waveform distortions. It uses the passive matter principle with built in EMF detection and furthermore it can - if we are able to build it - actually find ghosts for complete and clean disinspection. Using the latest in atomic filtration technology it makes sure that no ghostly particles escape and cause ugly stains anywhere on your furniture.
How can it be used?
Because it is a passive device that actually does not work in any way you can put it anywhere you like as long as it it connected to 110 or 250 volts power. The power supply is autoswitching, so that you can use it when you travel the world.
Ghosts should be securely destroyed, right? We ran a test and threw a few slices of bread on the prototype and what can we say? They got toasted! It worked so well, that we even considered renaming the device to Toast Buster but then again what would that have to do with ghosts?
We can guarantee the device will not be very popular with airport security, so you should not try to bring it as hand luggage.
It needs to be used with caution if there is a cat in the house. It may be sucked in accidentially - in particular if you use cat food as a way to attract the ghosts. However we know there will be not much left of the cat because the device is self cleaning and as mentioned above it uses the latest in atomic filtration technology. At least there will be no mess.
We plan to go even further!
To look at the bigger picture, we actually want to make a video game about ghosts and hunting them down. But in order to be as realistic as possible we want to build the needed equipment first and try it out and then simulate the use of it in the game. There are about 50 more devices that we will need to build and we hope we can create a loyal community of backers over the years to support that plan. We are thinking of creating ghost traps, sensors, storage devices and a lot of other things that seem to come in handy when hunting for ghosts.
Where are we in terms of development?
We have built a prototype and we are confident that it would work. Before we go into mass production we need two things:
1. We need to find a real haunting to proof that it does work. This is the main challenge as it can probably delay production for quiet some time.
2. We are sure there was a second thing.
Documentation
The product will come with a manual in Chinese (simplified and traditional) and Hindi in Devanagari script. This is a strictly commercial decision because it allows us to serve billions of customers. However we believe it may be practical for a few more people if we included an English translation as well. We will do some more market research on that topic.
Features:
Once your device is delivered you will find the following items in the box:
Loads of bio styrofoam 
1 Ghost Duster 
A roll of toilet paper to keep it clean 
Greencard to secure the device 
Quick guide manual (3000 pages)