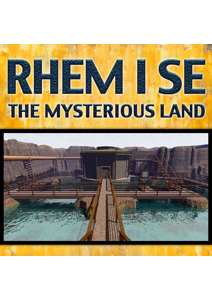 Products
Rhem IV SE - The Golden Fragments (download): £7.99
Rhem I SE - The Mysterious Land (download): £7.99
Rhem II SE - The Cave Special Edition (download): £7.99
Rhem III SE - The Secret Library (download): £7.99

System requirements:
Mac OS X 10.11
Mac OS X 10.12
Windows 7/ Windows 8 / Windows 10
1GHz Intel Mac Core Solo
1GB HDD
512MB RAM



Important: Does not work with macOS 10.15 (Catalina) and above


I agree with the
privacy policy
.
Rhem I SE - The Mysterious Land
RHEM is a first person adventure featuring brain-teasing puzzles for your Mac. You arrive in the world of Rhem by a stolen rail car. For a moment, you must simply sit tight, unable to escape. Then, the car begins to roam this world, revealing its mysteries, little by little. You soon learn that the only possibility for your safe return home is a letter consisting of four hidden fragments, which you must not only find, but also put together. Upon disembarking the rail car, and now in search of the letter, you will explore the land of Rhem...

RHEM is a graphic adventure (point-and-click, pre-calculated first person). The virtual world is shown through the eyes of the players. The environment consists of individual pictures covering a 360-degree view.

This Special Edition features many new puzzles and areas to the original game. In addition many enhancements from the sequels like "color-picker" or "skip mode" have been added to "RHEM I SE: The Mysterious Land"
Features:
explore the land of Rhem
mind-bending puzzles for your Mac
non-violent story, non-linear gameplay
color picker feature for colorblind people
Skip mode
supports 6 languages (English, german, french, italian, polish and russian)