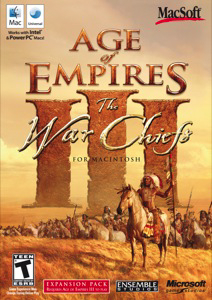 Products
Age of Empires III: WarChiefs (box): £24.95

System requirements:
Mac OS X 10.3.9
1.2GHz G4
2.6GB HDD
512MB RAM
I agree with the
privacy policy
.
Age of Empires III: WarChiefs
Become the leader of one of three Native American civilizations
Experience the power of the War Chief in the new expansion for Age of Empires III! In Age of Empires III: The WarChiefs, play as one of three new civilizations - Aztec, Iroquois, or Sioux - each with unique units, buildings, and abilities that will test your strategic mettle. Use upgrades for the European civilization from the original game to earn civ-specific bonuses, build units at a new mercenary saloon, collect new Cards, and battle toward victory with the new Revolution feature. Explore the new single-player Campaign and follow the continuing tale of the Black family as they witness the birth of a new nation.
Features:
Lead one of three proud Native American civilizations, including the Iroquois Confederacy and the Sioux Nation, to expand their empires and fight for control of the Americas
Each Native American civilization will have its own unique units, led by the powerful WarChief unit, buildings reflecting each culture's architectural style, and a distinct approach to their Home City feature
Play through 15 new missions with a rich story and a cast of characters that interact with real historic figures and events
Provide exciting additions to existing European civilizations, with new Home City content, new units including new mercenaries, and new ways to look at your card deck
New random maps in unique locations in the Americas not featured in the original Age of Empires III, additional native allies and units, more statistics tracking and new ways to play