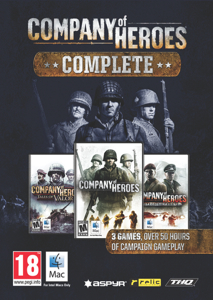 Products
System requirements:
DVD drive
Mac OS X 10.6
Mac OS X 10.7
2.4GHz Intel Mac Core Duo
12.3GB HDD
2048MB RAM
GeForce 8600/Radeon HD2600 256MB VRAM
The following video chipsets are unsupported: ATI Radeon, X1000 series, ATI Radeon HD 2400, NVIDIA 7000 series, NVIDIA 9400m, Intel Integrated GMA 950, Intel Integrated x3100
I agree with the
privacy policy
.
Company of Heroes Complete: Campaign Edition
Their lives in Your hands.
Company of Heroes redefines real time strategy gaming by bringing the sacrifice of heroic soldiers, war-ravaged environments, and dynamic battlefields to life. Beginning with the D-Day Invasion of Normandy, players lead squads of Allied soldiers into battle against the German war machine through some of the most pivotal battles of WWII. Through a rich single player campaign, players experience the cinematic intensity and bravery of ordinary soldiers thrust into extraordinary events.

Company of Heroes Complete: Campaign Edition for the Mac includes the fully-featured single player campaign from the original Company of Heroes as well as the additional campaigns and content from the expansions Company of Heroes: Opposing Fronts and Company of Heroes: Tales of Valor, delivering hours upon hours of tactical and strategic gameplay.
Features:
Immerse yourself in battle, controlling 3 seperate armies through 6 world-changing campaigns. Over 50 hours of gameplay!
A Cinematic Single Player Experience that captures the turmoil of WWII as never before.
Advanced squad AI brings your soldiers to life as they interact with the changing environment, take cover, and execute advanced squad tactics to eliminate all enemy opposition.
Stunning Visuals - Relic's cutting-edge engine provides graphic quality and a physics driven world that is unprecedented in an RTS.
Environmental Strategy - Real-time physics and a completely destructible environment guarantee no two battles ever play out in the same way. Destroy anything and re-shape the battlefield! Use buildings and terrain to your advantage, or deny them to the enemy.