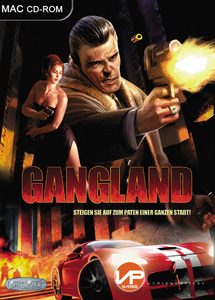 Products
Gangland (box): £24.99

System requirements:
Mac OS X 10.2.8
800MHz G3
256MB RAM
GeForce2 MX/Radeon 7500 32MB VRAM




Does not work with OS X 10.7, 10.8 and above
I agree with the
privacy policy
.
Gangland
Real time tactics in a Mafia-like scenario
Gangland is a fast pace arcade style action game that combines the RTT, RPG & SIM genres into a whole new breed. All wannabe mobster bosses can look forward to a unique experience that'll blow your brains out! Setup extortion rackets, bribe, steal, kill, bootleg, seduce, put out contracts, make drive-by hits, blow up buildings, infiltrate opponents, setup gambling parlors, brothels, speak-easies, and more...

Singleplayer
When Romano, Angelo, and Sonny, killed their own brother Chico in a fight they fled to the land of opportunity where they began each their own criminal career. That made grandpa very upset... He sent his fourth grandchild to America to track down and kill his malicious brothers and avenge the murder. When you arrive you should look up uncle Vincente..

Multiplayer
Take on the role of one ofthe Italian brothers, Mario, Angelo, Romano or Sonny, you must work your way up within the family and compete with other mobs and gangsters for supremacy in Paradise City.
Features:
GANGLAND offers a unique blend of RTS/RPG/SIM
Experience a living city with 800+ citizens per map
Interact with 500+ npc's with individual behavior
Make your own family from 20+ unique characters
Build a business empire on lots of illegal activities
Visit 26 different map locations in Paradise City
Solve 26 conquests and challenges
Make use of a vast array of weapons and gadgets
Use the environment in thrilling action-driven combat
Use subversive gameplay tactics to trap your opponents
Get surprised by the non-linear event-driven plot
Compete with other players to get on the highscore lists