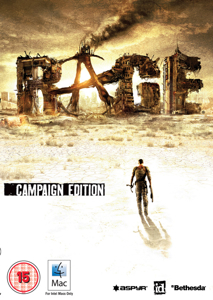 Products
System requirements:
DVD drive
Mac OS X 10.7
Intel Mac Core Duo
Supported video cards: NVIDIA GeForce® 8800, 9600M, GT 120, 330M, ATI Radeon HD 3870, HD 4670, HD 4850, HD 5670, HD 5750, HD 5770, HD 5870, HD 6630M, HD 6750M, HD 6970M, Intel HD Graphics 3000
Peripherals: Macintosh mouse and keyboard
Integrated video chipsets are not supported (GMA 950 Mac Mini (2006,2007), iMac(2006), Macbook(2006,2007), GMA X3100 Macbook(2007,2008), MacBook Air(2008))
NOTICE: Apple Intel Chipsets only.
NOTICE: This game is not supported on volumes formatted as Mac OS Extended (Case Sensitive)
I agree with the
privacy policy
.
Rage: Campaign Edition
Groundbreaking first-person shooter set in the not-too-distant future
Developed by id® Software, the creators of DOOM® and QUAKE®, RAGE is a groundbreaking first-person shooter set in the not-too-distant future after an asteroid impacts Earth, leaving a ravaged world behind. You emerge into this vast wasteland to discover humanity working to rebuild itself against such forces as bandit gangs, mutants, and the Authority - an oppressive government regime that has a special interest in you in particular. Featuring intense first-person shooter action, breakneck vehicle combat, an expansive world to explore and jaw-dropping graphics powered by id's revolutionary id Tech® 5 technology, RAGE promises an experience like no other.
Features:
Visceral 1st-person gunplay and exploration
Take on bandit gangs and hordes of mutants using an arsenal of exotic weapons and special items, such as Wingsticks, personal turrets, sentry bots, and remote-controlled bomb cars.
Frenetic 3rd-person vehicular mayhem
Burn rubber across the wasteland in your very own super buggy! Upgrade and customize your car with special parts, paint jobs and weapons, then test your skills as you battle four-wheeling bandit clans and participate in deadly races.
An expansive experience
Beyond the first-person action and vehicle combat, RAGE offers a vast wasteland to explore, with unique characters, side quests, and a compelling storyline.
Graphics that have to be seen to be believed
Powered by id's cutting-edge new id Tech® 5 engine, new Megatexture technology brings the vast wasteland to life in never-before-possible detail.
Bonus Content
The Wasteland Sewer Missions and Anarchy Edition content (Double Barrel Shotgun, Rat Rod Buggy, Fist of RAGE and Crimson Elite Armor) are included in the Mac release!