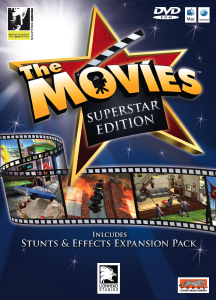 Products
The Movies Stunts and Effects (box): £12.49
The Movies Superstar Edition (download) (box): £13.50 (£13.99)
The Movies: Superstar Edition (box): £13.99
The Movies (box): £14.99

System requirements:
DVD drive
Mac OS X 10.5
1.4GHz Intel Mac Core Duo
8GB HDD
512MB RAM
3D graphics card 64MB VRAM
Supports Macs with Intel GMA processors. (older Intel Mac Minis and MacBooks)
File size: 8.0 GB (approx)
The Movies: Superstar Edition
Bundle for The Movies and the add-on Stunts & Effects
Lights! Camera! Action! You're the decision-maker on everything from budget to production in The Movies: Superstar Edition.

With The Movies: Superstar Edition, you can have your cake and eat it too as you take complete control of a Hollywood studio, from coming up with an initial idea to filming the action to releasing a finished movie to theaters. Box office numbers, critical reception, and award shows serve as barometers of their success.

This special edition features not only the original BAFTA-award winning The Movies game and the Stunts & Effects expansion pack, but also composer Dan Pemberton's BAFTA-nominated music, which mimics a wide range of styles - from silent movie piano ditties to soaring, John Williams-esque orchestral pieces - as he traces a century of cinema.

Features:
Become an industry legend - Design and run your own studio, from the early days of cinema through to the present day and beyond.
From nobody to superstar - Turn unknown wannabes into huge movie stars, but expect attitude not gratitude.
From pitch to premiere - Take full creative control of your movies. Write the scripts, direct them yourself and then edit your movie to perfection.
From flops to runaway hits - Make comedies, action films, romances, sci-fi flicks, horror films or anything in-between. Horrific sci-fi rom-com anyone?
Two sides of Hollywood, two modes of play - In The Movies' Sandbox Mode, you get to focus exclusively on making movies. And in Story Mode, you must build a commercially successful studio.
Show the world your talents - E-mail your movies to your friends and family. You can even share them with the world via The Movies Online community.