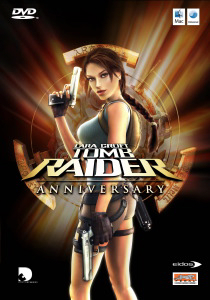 Products
Tomb Raider: Underworld (box): £13.99
Tomb Raider (box): £14.99

System requirements:
DVD drive
Mac OS X 10.9
Mac OS X 10.10
Mac OS X 10.11
1.8GHz Intel Mac Core Duo
4.3GB HDD
512MB RAM
3D graphics card 64MB VRAM
The following graphics cards are not supported: ATI X1xxx series and Intel GMA series
Download version does not require a DVD drive.
To activate the download version of Tomb Raider, you will need an internet connection and a free Steam account. If you do not already have a Steam account, please read the Steam Subscriber Agreement before buying the game.
I agree with the
privacy policy
.
Tomb Raider Anniversary
Tomb Raider Anniversary
Celebrate and commemorate ten years of Tomb Raider and Lara Croft with Tomb Raider: Anniversary, a new action adventure inspired by the original Tomb Raider video game, one of the greatest action adventure games of all time.
The adventure begins when Lara is hired by a powerful syndicate to retrieve a mythical object called the Scion. As Lara searches ancient tombs and isolated worlds that have lain undisturbed for thousands of years, she discovers that she is not alone. Not only has she awoken their fearsome guardians but there are others desperate to learn the Scion's dark secrets.
Features:
Explore Atlantis and ancient Egyptian pyramids - every hidden dark crevice and impossible height
Unleash a hail of bullets from Lara's dual pistols - acrobatic gunplay as you deftly leap around charging enemies
Wilderness awaits - Bestial predators from bats to wolves to bears defend their territory from human encroachment
Death-defying stunts - Leap over massive gaps, cling onto rock ledges, and swim through underground tunnels
Seek to outwit the brilliant ancient designers of many epic puzzles and vaults in order to uncover their secrets