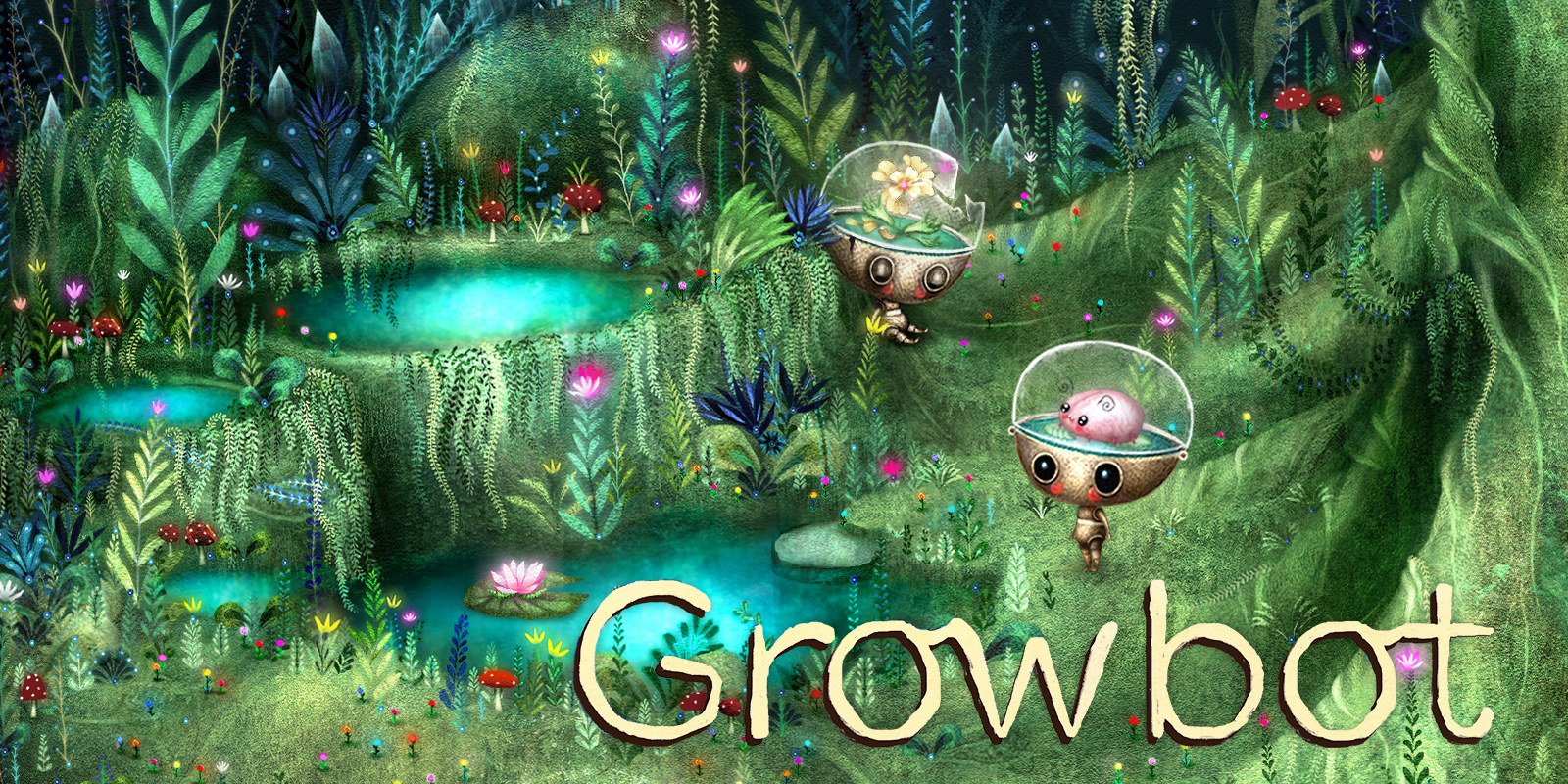 ---
Text downloads:
---
Videos
Teaser Trailer YouTube
---
Images
---
Logo & Icon
---
More images
There are currently no extra images available for Growbot. Check back later for more or contact us for specific requests!
---
Animated GIF images
---
Awards & Recognition
---
Selected Articles
"Growbot's artwork is utterly charming."
- Philippa Warr, Rock Paper Shotgun
"Growbot takes the adorable fantasy worlds of Evans' static art and translates them into a space station you can play with."
- Indie Issue, PC Gamer UK
"Beautiful artwork, charming characters and an intriguing narrative."
- KJ Robertson, alpha beta gamer
---
Request Press Copy
Please fill in your e-mail address below and we'll get back to you as soon as a press copy is available for you.

---
Monetization Permission
Application Systems allows for the contents of Growbot to be published through video broadcasting services for any commercial or non-commercial purposes. Monetization of videos created containing assets from Growbot is legally & explicitly allowed by Application Systems. This permission can be found in writing at https://www.application-systems.co.uk/press/sheet.php?p=Growbot.
---
Keywords
English
sci-fi,space station,adventuregame,adventuregames,pointandclick,puzzles,story,old,school,adventure game studio,videogame,videogames,games,gaming,pc,mac,linux,application,systems,heidelberg,london,wabisabi,lisa evans
---
Additional Links
Growbot Developer
Check out the dev page too growbotgame.com .
---
About Application Systems
Boilerplate
We're a developer and publisher and work with indie teams to make great games.
More information
More information on Application Systems, our logo & relevant media are available here.
---
---
Projects under development:
PC/Mac/Linux: Mutropolis - Post apocalyptic Sci-Fi adventure game - UNDER DEVELOPMENT
PC/Mac/Linux: Growbot - Sci-Fi themed story book like adventure game - UNDER DEVELOPMENT
Nintendo Switch: Unforeseen Incidents - Mystery adventure game - UNDER DEVELOPMENT
Nintendo Switch: The Longing - UNDER DEVELOPMENT
PC/Mac/Linux: Haiki - UNDER DEVELOPMENT
PC/Mac/Linux: Ghost on the Shore - UNDER DEVELOPMENT
PC/Mac/Linux: Rosewater - UNDER DEVELOPMENT
List of released projects:
PC/Mac/Linux: The Longing - Unusual mix of idle game and adventure game - UNDER DEVELOPMENT
PC/Mac/Linux: LUNA The Shadow Dust - Puzzle Adventure - RELEASED
Nintendo Switch: Nelly Cootalot - RELEASED
Nintendo Switch: Frag doch mal...die Maus! - Kids quiz game - RELEASED
PC/Mac: Lamplight City - Detective adventure game - RELEASED
PC/Mac/Linux: Unforeseen Incidents - Mystery adventure game - RELEASED
iOS/Android/Windows mobile: Nelly Cootalot - Nautical themed adventure game - RELEASED
Wii U: Frag doch mal...die Maus! - Kids quiz game - RELEASED
Playstation VR: Carpe Lucem: Seize The Light - Virtual Reality Puzzle game - RELEASED
PC/Mac/Linux: Nelly Cootalot - Nautical themed adventure game - RELEASED
PC: Carpe Lucem: Seize The Light - Virtual Reality Puzzle game - RELEASED
PC/Mac/Linux/iOS/Android: Frag doch mal...die Maus! - Kids quiz game - RELEASED
PC/Mac/Linux: GhostControl Inc., - turn based ghost hunting in retro style - RELEASED
iOS/Android: 6 Takes! - Adaptation of classic card game - RELEASED
iOS: Café International - The board game (Game of The Year in Germany) as an App - RELEASED