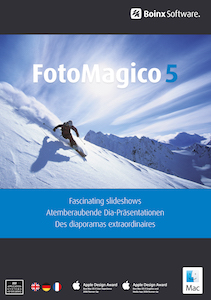 Products
FotoMagico 5 (box): £43.99
FotoMagico 5 Pro (box): £87.99

System requirements:
Mac OS X 10.10
Mac OS X 10.11
Mac OS X 10.12
Mac OS X 10.13
64 bit Intel Mac
8GB of RAM (or more)
graphics card with 512 MB of video memory (or more)
Customers who work with Mac OS X 10.8 or Mac OS X 10.9 can download FotoMagico 4 because the license key of FotoMagico 5 Pro can also be used with version 4.

News

20.10.2017:

FotoMagico 5 new version 5.5

Application Systems announces the availability of the new version 5.5 of FotoMagico 5 for the Mac. The new version can be downloaded from:
http://www.application-systems.de/fotomagico

New Features include:
• FotoMagico 5.5 is compatible with macOS 10.13 High Sierra.
• Support for exporting to new iOS devices and HEVC codec has been added.
• Pressing the option key while dragging a music snippet to the Storyboard now suppresses the automatic syncing with audio markers.
• Applying shadows to text layers is now more reliable. In addition the "More..." popover in Title Options has been improved.
• Slide numbers are now correct after re-arranging slides in the Storyboard.
• Double clicking on zoom jogwheel to reset to default value is now more reliable.
• Fixed a potential crash on some computers when opening documents on macOS 10.13.
• Various stability improvements and small fixes.


30.03.2016:

FotoMagico 5 is shipping

The English elctronic versions of FotoMagico 5 and FotoMagico 5 Pro for the Mac are available.