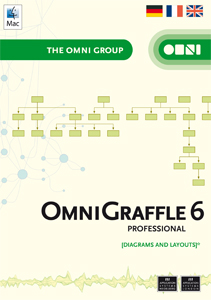 Products
OmniGraffle 6 Professional (box): £169.99

System requirements:

Please Note:
To use OmniGraffle 6 you need to run at least
Mac OS X 10.8.
on your computer. OmniGraffle 6.2 and newer need at least
Mac OS X 10.10
to be installed on your machine.

OmniGraffle 6 Professional
Diagramming, charting, and visualization software for Mac OS X
OmniGraffle can help you make eye-popping graphic documents--quickly--by providing powerful styling tools, keeping lines connected to shapes even when they're moved, and magically organizing diagrams with just one click. Create flow charts, diagrams, UI and UX interactions, and more. Whether you need a quick sketch or an epic technical figure, OmniGraffle and OmniGraffle Pro keep it gorgeously understandable.

What's new in 6
The completely redesigned OmniGraffle 6 comes with a bevy of new features, like integrated Inspector & Stencil windows full of improved tools and upgraded steppers, a brand new Resource Browser to manage stencils and templates, and text & shape scaling. When you're working with high-density screens, set a Res-independent Display Scale for either an Apple point, PostScript point, or screen pixel. And snap everything to irreplaceable Manual Guides that can be copied from one canvas to another. OmniGraffle 6 does a whole lot more. Sensibly.


Build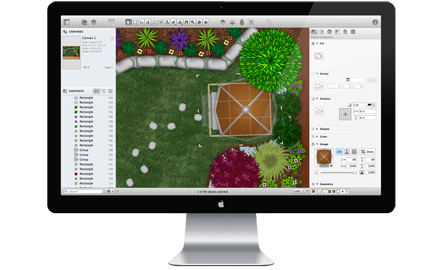 OmniGraffle can help you build anything -- from a rough draft of a new app idea to a gorgeous presentation for executives' eyes. Create impressive, best-in-show pieces with mounds of useful gizmos and gadgets inside the app. Use layers and canvases, shapes, lines, pictures; anything to get your point across.
Draft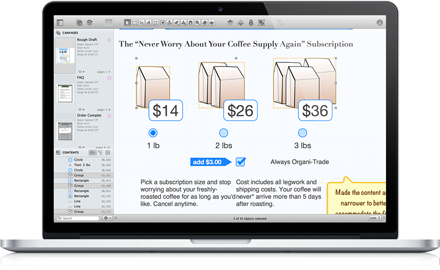 OmniGraffle is perfect for sketching a simple draft of an imagined product. You can fill in the details when you have them, or give the facade simple, artistic fills to pass along a good-looking to someone else. OmniGraffle Professional can even export to Visio, if your partner prefers something else.
Wireframe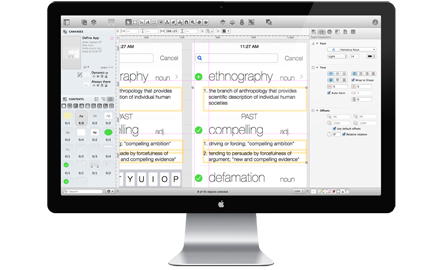 OmniGraffle lets you craft a solid User Interface for any screen. Start with gorgeous stencils from a vast collection built by users, or build your own, save them for later, and use with all your common projects.
Brainstorm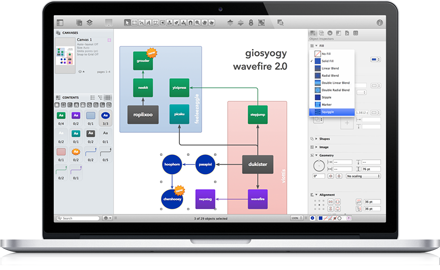 OmniGraffle enables limitless customization for process workflows, organizational charts, and more. We've thrown in a few templates just because, but it's really easy to start your own. And they're based on an outline, so getting ideas down quickly and in a readable format is as easy as...typing. Tap Return and Automatic Layout does the rest.
Features:
Document syncing - Sync documents with OmniPresence
Graphviz Layout Engine - For making the best graphs
Artistic Fills - Get a good look for shapes, quickly
Bézier lines & shapes - Custom-curve all your lines
Mini Inspectors - The most-used inspectors, always there
Custom stencils - Create and save your own commonly-used stencils
Custom templates - Great for the weekly workflow diagrams
Custom diagram - styles Keep your style the same from the start, or apply one later
Outline view - Easily brainstorm with a familiar outline -- import OmniOutliner documents, too
Manual Guides - Set manual guides at your own volition to help place objects
Multi-page documents - Print a 150-sheet poster, if you'd like
Multi-canvas documents - Store all of the project-materials in one document
Multi-layer documents - Layers, all the way down
Unit Scaling - Do 10 pixels equal an inch?
Path-following Text - Text that follows a path: on, above, or below a line
Export - Share your documents in a myriad of image formats
Automatic Layout - Beautiful graphs with minimal (see also: 'no') work
Smart Guides - Get instant proximity and size feedback
Shared Layers - Share content between canvases with a click
Non-destructive shape combinations - Edit combined shapes long after
Notes & Custom Data - Set key/value pairs on objects
Tables - Rows and columns of objects, all starting from one shape
Multiple editing windows - Zoom to 6400% on one, see realtime changes on the other
Subgraph Support - Group and collapse groups of objects, easily
Xcode Import - Create useful diagrams of inheritance, protocol, and category relationships
Resolution-independent Display Scaling - When zoom is at 100%, match a screen pixel, Apple point, or PostScript point
Presentation Mode - A chromeless window with support for actions
Pro export options - Export to all Standard formats, plus SVG, and Photoshop with layers
Object-Geometry controls - Specify X and Y coordinates to any point on an object
Visio® Support - Import .vsd, .vdx, .vst, .vtx, .vss, and .vsx formats; export to Visio® XML
AppleScript & Actions support - Add clickable Actions to shapes; automate with AppleScript