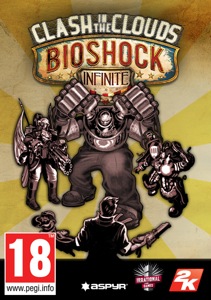 Products
BioShock Infinite: Clash in the Clouds (download): £2.99
Bioshock Infinite: Columbia's Finest (download): £2.99
BioShock Infinite: Burial at Sea - Episode 1 (download): £10.49
BioShock Infinite: Burial at Sea - Episode 2 (download): £10.49
BioShock (box): £13.99
BioShock 2 (box): £13.99
BioShock Infinite: Season Pass (download): £13.99
BioShock Infinite (download): £19.99

System requirements:
IMPORTANT: BioShock Infinite required to play this add-on content. Do not purchase Clash in the Clouds if you have already purchased the "Season Pass".

I agree with the
privacy policy
.
BioShock Infinite: Clash in the Clouds
Are you up to the challenge?
BioShock Infinite: Clash in the Clouds is an action-focused downloadable content pack that presents players with a series of unique, intense challenges and a whole new gambit of combat opportunities. Players will combine a diverse toolset of weapons, Vigors, gear, Tears and Sky-Lines in four new areas inspired by the classic BioShock Infinite environments. In addition, by completing all 60 Blue Ribbon challenges, players will unlock exclusives in the Columbian Archeological Society, gaining access to new Voxophones, Kinetoscopes, concept art and more.