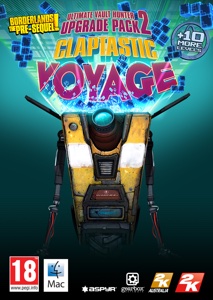 Products
Borderlands 2: TK Baha's Bloody Harvest (download): £1.49
Borderlands 2: Sir Hammerlock vs. the Son of Crawmerax (download): £1.49
Borderlands 2: Mercenary Day (download): £1.99
Borderlands 2: Ultimate Vault Hunters Upgrade Pack (download): £2.99
Borderlands 2: Creature Slaughter Dome (download): £2.99
Borderlands 2: Ultimate Vault Hunter Upgrade Pack 2: Digistruct Peak Challenge (download): £2.99
Borderlands 2: Tiny Tina's Assault on Dragon Keep (download): £6.99
Borderlands 2 - Mechromancer (download): £6.99
Borderlands 2 - Mr. Torgue's Campaign of Carnage (download): £6.99
Borderlands 2 - Sir Hammerlock's Big Game Hunt (download): £6.99
Borderlands 2 - Captain Scarlett and her Pirate's Booty (download): £6.99
Borderlands 2: Psycho Pack (download): £6.99
Borderlands: The Pre-Sequel Handsome Jack Pack (download): £6.99
Borderlands: The Pre-Sequel Lady Hammerlock the Baroness (download): £6.99
Borderlands: The Pre-Sequel UVHUP & The Holodome Onslaught (download): £6.99
Borderlands: The Pre-Sequel: Claptastic Voyage und Ultimate Vault Hunter Upgrade Pack 2 (download): £6.99
Borderlands 2 (download): £13.99
Borderlands: Game Of The Year Edition (box): £19.99
Borderlands: The Pre-Sequel Season Pass (download): £19.99
Borderlands 2 Season Pass (download): £19.99
Borderlands: The Pre-Sequel (download): £29.99
Borderlands 2: Game of the Year Edition (download): £34.99

System requirements:
Mac OS X 10.9
Mac OS X 10.10
2.2GHz Intel Mac Core 2 Duo
13GB HDD
4096MB RAM
GeForce 8800/Radeon HD2600 256MB VRAM
Gamepad support: Borderlands: The Pre-Sequel supports the Playstation 4 Dualshock 4, the Playstation 3 Dualshock 3 Wireless Controllers, the Xbox 360 for Windows (wired) and the Xbox One (wired) controllers
NOTICE: Requires that the full version of Borderlands: The Pre-sequel already be installed on your Mac via Steam.  
NOTICE: Claptastic Voyage & UVHUP2 is NOT compatible with the App Store version of Borderlands: The Pre-Sequel
Other Requirements: Initial installation requires one-time Internet connection for Steam authentication; software installations required (included with the game) include Steam Client. Internet Connection and acceptance of Steam™ Subscriber Agreement required for activation. See www.steampowered.com/agreement for details
NOTICE: The following video chipsets are unsupported for Borderlands: The Pre-Sequel: ATI RADEON X1000 Series, ATI RADEON HD 2400, NVIDIA 8600m, NVIDIA 9400m, 9600m, Intel Integrated GMA 950, Intel Integrated x3100
NOTICE: This game is not supported on volumes formatted as Mac OS Extended (Case Sensitive)
I agree with the
privacy policy
.
Borderlands: The Pre-Sequel: Claptastic Voyage und Ultimate Vault Hunter Upgrade Pack 2
Handsome Jack's found something ludicrously powerful within CL4P-TP's mind. Never one to turn down more power, Handsome Jack digitizes the vault hunters and sends them into Claptrap's mind. The goal is simple: find the mysterious "H-Source" code and get out of Claptrap's consciousness without going insane. In the first full campaign add-on for Borderlands: The Pre-Sequel , our anti-heroes will deal with Claptrap's personal insecurities, malware, and digital representations of his crushing loneliness! As bonus content, this pack also includes Ultimate Vault Hunter Upgrade Pack 2, which raises the level cap and gives your characters 10 new levels plus 10 new skill points to earn!