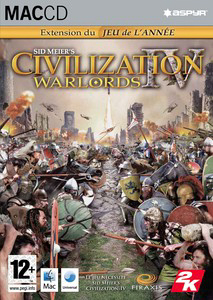 Products
Civilization IV: Warlords (download): £2.85 (£2.99)
Civilization IV (download): £9.45 (£9.99)
Civilization IV: Colonization (download): £9.45 (£9.99)

System requirements:
Mac OS X 10.3.9
Mac OS X 10.7
1.8GHz G5/ Intel Mac Core Duo
3.5GB HDD
512MB RAM
3D graphics card 64MB VRAM
I agree with the
privacy policy
.
Civilization IV: Warlords
Pay Homage to History's Greatest Military Leaders

Sid Meier's Civilization IV: Warlords is the first expansion pack for the Firaxis Games' award-winning title, Civilization IV. Paying homage to some of history's greatest military leaders, the expansion delivers eight unique and interesting scenarios, giving players the chance to change the course of history with the help of their new powerful "warlord" unit. Civilization IV: Warlords includes new civilizations, leaders, units, and wonders that offer even more fun and exciting ways for players to expand their civilization's military power as they strive for world domination.
Features:
Warlords - A new great person type called the Warlord will be an indispensable asset to any player bent on world domination.
Vassal States - You no longer need to obliterate an enemy to defeat them. Conquer your enemies and subjugate them to your rule.
Game Scenarios - The expansion will deliver eight new historical scenarios spanning Alexander's conquests through Genghis Khan's dominance of Asia, in addition to other scenarios that challenge the way that you currently play the game.
New Civilizations - Six new civilizations will be included, giving you even more options when planning your domination of the world.
Civilization Leaders - Ten new leaders will be provided, including leaders for the new civilizations as well as additional leaders for existing civilizations.
Leader Traits - In addition to the many existing leader traits in Civilization IV, two new leader traits accompany the expansion.
New Wonders - There will be three new awe-inspiring wonders, all contributing new benefits and culture to your civilization.
Unique Buildings - Players will now be able to construct buildings unique to each civilization.
Units, Resources, & Improvements - Many new items not available in the core game will be introduced in the new scenarios.
Core Game Tweaks and Additions - Expanded features and gameplay tweaks will be made to the core game.