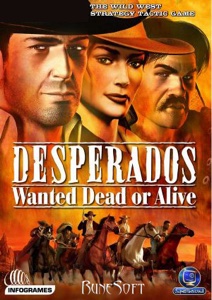 Products
Desperados: Wanted Dead or Alive (download): £0.00

System requirements:
Mac OS X 10.9
Mac OS X 10.10
2GHz Intel Mac Core 2 Duo
2048MB RAM
256MB VRAM



Important: Does not work with macOS 10.15 (Catalina) and above

I agree with the
privacy policy
.
Desperados: Wanted Dead or Alive
Wanted Dead or Alive
"Desperados: Wanted Dead or Alive" is the first strategy game ever to combine a movie-based and story-driven atmosphere of an adventure game with the intellectual challenge of a real time tactic game.

In this western-style title, discover a game of strategy and tactics played out in exceptional real time. You're in charge of a team of 6 mercenaries and must find a way to complete your missions, be it infiltrating an enemy fortress, saving a team member or escaping an ambush... Combine the different skills of your 6 heroes to lead them to victory.

The Story
El Paso, a typical Wild West town in the southwestern United States near the Mexican border. It is the year 1881. For the last few months, the trains belonging to the famous railroad company, Twinnings & Co have been the target of a whole series of hold-ups and ambushes. The management of the company has decided enough is enough and they have to put an end to the raids. It has offered a reward of $15,000 for anyone who captures the leader of the gang responsible.

But no one in and around El Paso has the courage to take on the might of the bandidos, so the outlaws just keep on robbing train after train. Even the local Marshal is keeping well out of it.

It's only when a stranger rides into town that things start to change. Bounty hunter John Cooper pays a visit to the local Twinnings & Co manager offering to end the railroad company's problems once and for all. He gathers together a gang of his old partners and declares war on the bandidos. But during his pursuit, which will take him through half of the southwestern United States, Cooper soon discovers that on this mission nothing is quite what it seems...
Features:
6 different game characters, each of them having special abilities
25 real time-strategy missions full of action
Award-winning full motion videos with thrilling plots
Unique sceneries including ghost towns, gold mines, pueblos, swamps, camps saloons, prisons and steamers
Thrilling gun fights, bank robberies, ambush missions, traps and breakneck pursuits
Spectacular effects in the landscapes including thunderstorms, sun sets, caves, fires and waterfalls
6 practice missions to get used to controlling the characters
Altogether more than 30 different characteristics to be used by you skillfully in order to survive the levels and to escape