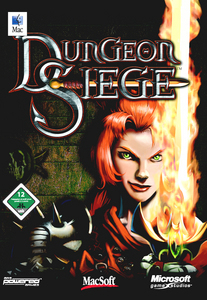 Products
Dungeon Siege (box): £29.99

System requirements:
Mac OS X 10.1
450MHz G3
256MB RAM
16MB VRAM




Does not work with OS X 10.7, 10.8 and above
I agree with the
privacy policy
.
Dungeon Siege
A fantastic combination of role-playing and non-stop action in 3D
Your adventures take place in the Kingdom of Ehb, one of the youngest states bordering the Plain of Tears. Protected by a ring of superb fortifications and heir to the 10th Legion - arguably one of the best trained armies in the world - the Kingdom of Ehb has, so far, been shielded from the raids and invasions that have devastated many of its neighboring states on the Plain.

Within Ehb's borders, there is an astonishing diversity in geography and cultures. Most inhabitants worship Azunai, an ancient god of the pre-Imperial Agallan Peaks. Dwarves and men live together in harmony and bow to the same king. Sorcerers are also more accepted than in other countries, thanks in large part to the efforts of Merik, Grand Mage and Warden of Shadows of the 10th Legion. And in the heart of the kingdom, a strange and often contrary race called the Droog is allowed a degree of autonomy, despite its sometimes-troublesome alliances.

It is a country in search of an identity, caught between the glories of a fallen past and the potential for an even greater future. Despite several crises, Ehb has never fallen to an enemy. But at any time the course of events could turn down a bleaker path.
Features:
In this thrilling combination of in-depth role-playing and non-stop action, you'll plunge into a 3D world where you face an army of evil
As you travel to see the world, your character will learn new skills and start on the path of the warrior
Travel with a fully-customizable party with up to 8 characters - it's up to you to lead them into battle against monsters and marauders
Simple but engaging gameplay that lets you choose your own path - Fight for the sake of action, or just collect treasure until you're wealthy
Gigantic, continuous 3D world immerses you into fantastic gameplay, through enormous castles and secret underground lairs