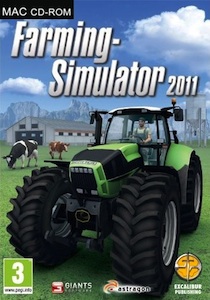 Products
Farming Simulator 2011 (box): £24.99
Farming Simulator 2011 (download): £24.99

System requirements:
DVD drive
Mac OS X 10.5
Mac OS X 10.6
1.8GHz Intel Mac Core Duo
1GB HDD
1024MB RAM
3D graphics card 256MB VRAM
I agree with the
privacy policy
.
Farming Simulator 2011
Your farm is waiting! Are you ready?
The new edition of the popular simulator series is now available for the Mac! You now can conduct animal husbandry with its variety of tasks. This, of course, includes feeding the animals and spreading the organic fertilizer on the field. You can earn additional money by selling the produced milk to dairies.

Another great improvement is the multiplayer modus which enables you to work your farm with many players via the internet or with friends in a local network. In the career modus you take on the role of the young farmer and experience the varied everyday life in the completely remodeled, freely accessible world. There are numerous detailed tractors, harvesters and equipment, such as ploughs, seeders, baling presses and bale trailers, available. Thanks to licensing by leading manufacturers such as DEUTZ-FAHR, KRONE, HORSCH, PÖTTINGER and VOGEL & NOOT, you control true-to-original machinery.

If your fleet isn't big enough for you, you can chose from a multitude of modifications and download them from the internet. The sophisticated mod system enables you to install the additional content easily and automatically. Or get active yourself and create your own simulation mod.

Features:
Career mode with business part and animal husbandry
Play together with your friends via the internet/LAN in the new multiplayer mode
Authentic agricultural machinery by DEUTZ-FAHR, KRONE, HORSCH, PÖTTINGER and VOGEL & NOOT
Different types of crop such as barley, corn, rapeseed and wheat
A freely navigable world
Computer controlled workers
Download additional vehicles and equipment with automatic mod installation
Support of gamepad, joystick & steering wheels