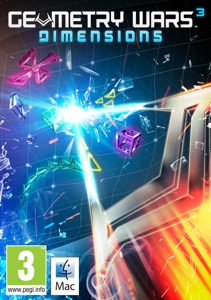 Products
Geometry Wars 3: Dimensions (download): £10.99

System requirements:
Mac OS X 10.9
Mac OS X 10.10
2.2GHz Intel Mac Core 2 Duo
256MB HDD
4096MB RAM
GeForce 8800/Radeon HD3870 256MB VRAM
Intel HD 3000
Geometry Wars 3: Dimensions for Mac supports the Playstation 4 Dualshock 4, the Playstation 3 Dualshock 3 Wireless Controllers and the Xbox 360 for Windows wired controller
Other Requirements: Initial installation requires one-time Internet connection for Steam authentication; software installations required (included with the game) include Steam Client. Internet Connection and acceptance of Steam™ Subscriber Agreement required for activation. See www.steampowered.com/agreement for details
I agree with the
privacy policy
.
Geometry Wars 3: Dimensions
Pew pew pew!!!
Enjoy the next chapter in the award-winning Geometry Wars franchise and battle through waves of enemies on 3D grids in this frenetic arcade shooter!
Features:
Over 50 single player levels including Adventure and Classic Arcade modes
3D grids and over 10 battle modes including Pacifism, King and Claustrophobia
4 unique companion drones such as Attack, Collector, Ram and Snipe
Cooperative and Online Competitive Multiplayer modes
Community and Friend Leaderboards