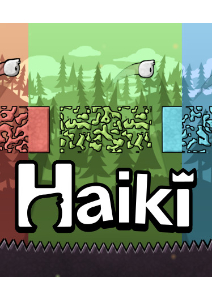 Products
Haiki (download): £12.99

System requirements:
Windows 7/ Windows 8 / Windows 10
Mac OS X 10.11
Linux
1.2GHz Intel Mac Core 2 Duo
500MB HDD
4096MB RAM
1024MB VRAM


I agree with the
privacy policy
.
Haiki
Diamond-hard platformer
Haiki is a diamond-hard platformer that rewards skilful play and punishes errors MERCILESSLY. Dive head-first into four worlds of colour-switching, laser-dodging, lightning-fast action.
You control Haiki's severed head, on an epic journey to defeat the slash-happy Baron Nohead. Leap from wall-to-wall, across chasms, over spikes... into oblivion. You'll need precision jumps and keen reactions to survive the 80 hand-crafted levels standing between Haiki and victory.
Die, die and die again until your reflexes are sharp enough to face the headless Baron and get your body back.
Or lose your head forever.
Want to get ahead? Get a hat! Collect dapper, dashing and dandy hats on your journey up from the gutter. How do the hats help Haiki on his quest?
They don't. AT ALL.
They're just hats.
Features:
Fast-paced, intuitive, limb-free platforming
80 levels, from EASY to PURE HELL
A story that makes Shakespeare look like an idiot
Speedrun mode for the truly hardcore
Collectible hats for the truly awesome