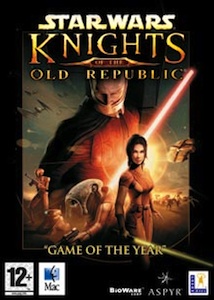 Products
Star Wars: Knights of the Old Republic (download): £6.65 (£6.99)
Star Wars: Knights of the Old Republic II (download): £6.99

System requirements:
DVD drive
Mac OS X 10.5
Mac OS X 10.6
1GHz Intel Mac Core Duo
512MB RAM
GeForce 7300/Radeon X1600 128MB VRAM



Important: Does not work with macOS 10.15 (Catalina) and above

I agree with the
privacy policy
.
Star Wars: Knights of the Old Republic
Choose your path in this fascinating action game
Choose Your Path

It is four thousand years before the Galactic Empire and hundreds of Jedi Knights have fallen in battle against the ruthless Sith. As the last hope of the Jedi, you must lead a band of freedom fighters in an epic struggle to save the galaxy.

Can you master the awesome power of the Force on your quest to save the Republic? Or will you fall to the lure of the dark side? Hero or villain, savior or conqueror...you must choose wisely as you alone will determine the destiny of the entire galaxy!
Features:
Immersive, action-packed Star Wars role-playing experience with customizable and evolving playable characters.
Choose from nine customizable characters to build your party of three adventurers, including humans, droids, Twi'leks, Wookiees and more.
Journey spans seven different worlds including Tatooine, Sith world of Korriban, Jedi Academy on Dantooine and Wookiee homeworld of Kashyyyk.
Choose your party from nine customisable characters, including Twi'leks, droids and Wookiees.