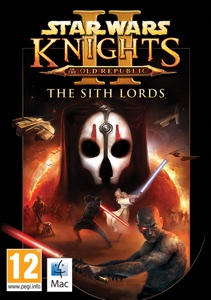 Products
Star Wars: Knights of the Old Republic (download): £6.65 (£6.99)
Star Wars: Knights of the Old Republic II (download): £6.99

System requirements:
Mac OS X 10.9
Mac OS X 10.10
Linux
2.2GHz Intel Core i3 (2 Kerne)
10GB HDD
4096MB RAM
256MB VRAM
Initial installation requires one-time Internet connection for Steam authentication; software installations required (included with the game) include Steam Client. Internet Connection and acceptance of Steam™ Subscriber Agreement required for activation. See www.steampowered.com/agreement for details
Video Card ATI Radeon HD 3870, NVidia Geforce 330M, Intel HD 3000 or better.
The following video chipsets are unsupported: ATI Radeon X1000 series, HD 2000 series, 4670, 6490, 6630. NVIDIA GeForce 7000 Series, 8000 series, 9000 series, 320M, GT 100 series, Intel GMA series
Gamepad support: Star Wars®: Knights of the Old Republic™ II supports the Playstation 4 Dualshock 4, the Playstation 3 Dualshock 3 Wireless Controllers and the Xbox 360 for Windows wired controller and the Xbox One controller (wired)
This game is not supported on volumes formatted as Mac OS Extended (Case Sensitive)
System Requirements Linux: Operating System: SteamOS, Ubuntu 14.04. CPU Processor: Intel Core i3, AMD A10. CPU Speed: 2.4GHz. Memory: 4 GB RAM. Hard Disk Space: 10 GB. Video Card (ATI): Radeon HD 5450. Video Card (NVidia): Geforce 440. Video Card (Intel): HD 4400. Video Memory (VRam): 896 MB
I agree with the
privacy policy
.
Star Wars: Knights of the Old Republic II
It is not the destination that matters. It is the journey
Five years after the events from the award winning Star Wars® Knights of the Old Republic™, the Sith Lords have hunted the Jedi to the edge of extinction and are on the verge of crushing the Old Republic. With the Jedi Order in ruin, the Republic's only hope is a lone Jedi struggling to reconnect with the Force. As this Jedi, you will be faced with the galaxy's most dire decision: Follow the light side or succumb to the dark...
Features:
Follow up to the acclaimed and original Star Wars® Knights of the Old Republic™.
Choose from three different classes of Jedi, each with access to specific Jedi abilities.
Up to 10 characters in your party, each with their own story and agenda.
Choose the light or the dark side of the Force as you progress through the story.
The choices you make will affect your character, those in your party and those who may join you in your quest.
New Features with this release:
Widescreen/Native resolution support
Retina and up to 5K resolution support
Controller support
Achievements have been added!
© 2015 LucasArts, the LucasArts logo, STAR WARS and related properties are trademarks in the United States and/or in other countries of Lucasfilm Ltd. and/or its affiliates. © 2004-2015 Lucasfilm Entertainment Company Ltd. or Lucasfilm Ltd. All rights reserved. BioWare Odyssey Engine © 2001-2015 EA International (Studio and Publishing) Ltd. All rights reserved. Aspyr is a registered trademark of Aspyr Media, Inc., and the Aspyr star logo is a trademark of Aspyr Media. Mac and the Mac logo are trademarks of Apple Computer, Inc., registered in the U.S. and other countries. All other trademarks and trade names are the properties of their respective owners.