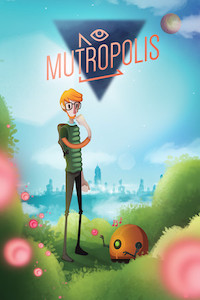 Products
Mutropolis (download): £16.49

System requirements:
Windows Vista SP1 or better
macOS 10,7 or better
Ubuntu Lnux 12.04 or better
Processor: 2 GHz Dual Core CPU
Memory: 2 GB RAM
Graphics: ATI Radeon HD 3400 series, Geforce 9400 series with 512 MB VRAM minimum
DirectX: Version 9.0c
4 GB disk space available

I agree with the
privacy policy
.
Mutropolis
A lovely SCI-FI archaeological post-apocalyptic adventure
In the 50th century, the great humankind achievements, such as pyramids or Humphrey Bogart's movies, were completely forgotten.
Henry and his nerdy team of archaeologists have been working hard for years, on the ground, digging treasures with the extremely rare hallmark "Made in China" and watching weird Indiana Jones documentaries.
Until some dog-looking God come to ruin everything.

Features:
Point&Click.
100% Hand-Made graphics.
Over 50 scenes full of weird cute characters.
Archaeological puzzles with a Sci-FI touch.
Travel to the future, research the past.
Absolutely indie.
TONS OF LOVE!