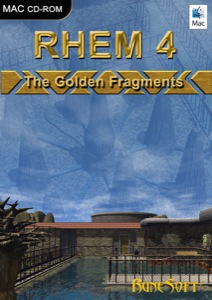 Products
Rhem 4 - The Golden Fragments (download) (box): £16.99
Rhem 4 PC (box): £26.99
Rhem 4 - The Golden Fragments (box): £26.99

System requirements:
DVD drive
Mac OS X 10.4.0
Mac OS X 10.7
800MHz G4
700MB HDD
256MB RAM
Download version requires an Intel Mac and Mac OS X 10.6 or better


I agree with the
privacy policy
.
Rhem 4 - The Golden Fragments
Rhem 4: The Golden Fragments, Mac version
"RHEM 4 - The Golden Fragments" takes you to another unknown part on the mysterious island of RHEM. The story continues where "RHEM 3: The Secret Library" ended, but the game can be played on its own as well.

You will have to collect several parts of the key, that will ultimately reveal the hidden secrets of RHEM. Make your way past tunnels, secret passages and doorways; on that way you will come across many strange vehicles and buildings, unknown mechanisms and machines.
New characters, that may help you solve some of the mysteries you will have to face, will cross your way. Everything is part of one big enigma, and your task is to find the answers one by one.
Features:
A complex world full of hidden rooms and paths for you to explore
Non linear, violence free gameplay
40-50 hours of gameplay