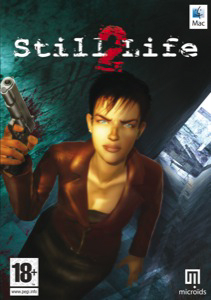 Products
Still Life 2 (box): £24.99

System requirements:
DVD drive
Mac OS X 10.4.9
1.8GHz Intel Mac Core Duo
6GB HDD
1024MB RAM
128MB VRAM
I agree with the
privacy policy
.
Still Life 2
Experience the successor to the thrilling horror adventure!
VIC MCPHERSON'S LONG-AWAITED RETURN!
The end of Still Life finally revealed!

Autumn 2008. Special agent Vic McPherson has joined the FBI, and more determinate than ever, she started tracking down serial killers. A new victim of the East Coast killer has been discovered in Maine. Paloma Hernandez, a journalist that loves to talk badly about the FBI, is also present. In spite of their rivality, she wants to meet agent McPherson to sign an exclusivity on the investigation. Irritated, Vic rejects the proposal... at the same time the Killer knocks on Paloma's bedroom door...
Features:
After Post Mortem and Still Life, step into the long expected sequel of Vic McPherson's adventures that many adventure gamers have played worldwide.
Incarnate and handle alternatively two female heroes, Vic and Paloma, linked by the same destiny: live two experiences of different games with a survival gameplay, and an investigation gameplay.
A movie-like rhythm, a superb realization in a full 3D environment, inside a breath taking thriller!
Manage carefully a limited inventory and solve objectives with a direct impact on the remaining part of your adventure!