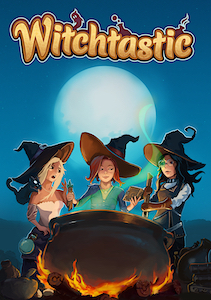 Products
Witchtastic (download): £13.99

System requirements:
Windows 7/ Windows 8 / Windows 10
4096MB RAM
Processor: Intel Core i3-2100 | AMD FX-6300
Graphics: NVIDIA GeForce GTX 670 (2 GB VRAM) or AMD Radeon R9 270X (2 GB VRAM)
DirectX: Version 11
Storage: 3600 MB available space
Additional Notes: Gamepads Recommended
Requires a 64-bit processor and operating system


I agree with the
privacy policy
.
Witchtastic
Coop game about brewing and delivering magic potions as fast as possible
Witchtastic is a challenging 1-4 player coop game about brewing and delivering magic potions as fast as possible. Take on the role of an aspiring witch and experience charming adventures with your friends. Gather ingredients such as deadly nightshade, garlic or mushrooms and throw them into the boiling cauldron. Quick and accurate communication is the key to success. Master dozens of recipes and embark on a magical journey. If you are ever in need of assistance, your trusted companion Owly is always eager to give you and your mates useful advice. But be wary of the dangers on your journey: Haunted forests, hungry wolves, deadly swamps and many more are waiting for you.
Features:
1-4 Player Couch- & Online-Coop! - Brewing magical potions all alone can be difficult. Team up with your friends and work as a duo, trio or squad of swift witches.
Master the art of brewing! - Become a better witch by learning and mastering all kinds of potions.
Explore the world of Witchtastic! - Travel through villages, forests, swamps, cities and snowy ruins. Experience a mysterious journey filled with challenges and dangers along the way.
Discover a huge variety of ingredients! - Deadly nightshade, mandrakes, mushrooms and many more exciting ingredients are waiting for you.
Ride your broom! - Use your broom to overcome obstacles, to move faster, or just because you can!
Collect magic gems and earn rewards! - Unlock a wide variety of new outfits, headdresses and other cosmetics while progressing through the game!
Customize your personal witch! - Use earned rewards to customize your witch in many different ways.
Set new records! - Every second counts! Witchtastic is an exiting challenge for completionists and speedrunners.