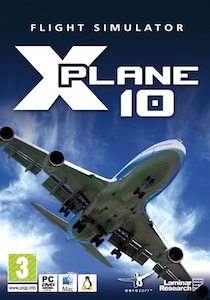 Products
X-Plane 10: Europe Edition (Mac) (box): £24.99
X-Plane 10: North America Edition (Mac) (box): £24.99
X-Plane 10: Europe Edition (PC) (box): £24.99
X-Plane 10: North America Edition (PC) (box): £24.99

System requirements:
DVD drive
Mac OS X 10.6
Windows XP
Windows Vista
Windows 7
2GHz Intel Mac Core Duo
2048MB RAM
128MB VRAM
At least 80GB free hard disc space required
I agree with the
privacy policy
.
X-Plane 10 (Mac/PC)
Fly Anything! Ultimate Realism, Ultimate Versatility. (Mac/Win/Lin)
X-Plane 10 is the latest version of a simulator that has been in development continuously for almost 20 years. Designed to be the most flexible flight simulator it is usable on Windows, Mac and Linux systems and has a fully open structure that allows the enthusiast to change every part. With thousands of compatible add-ons there is no kind of flying craft that is not simulated and there is a whole world to explore.

At its core is a virtual wind tunnel that creates the most realistic flight modeling available on a desktop. Equally capable of simulating every type of aircraft, the virtual pilot is able to experience the challenges of flying big airliners or tiny ultra-light aircraft. The realism of X-Plane 10 is proven by the fact that X-Plane is used as a certified training tool.

The virtual world in X-Plane 10 is what makes this version different from previous versions. The 'Plausible World' is a new style of virtual landscape that revolutionizes simulation. Created from many real world databases you will see almost all roads and built-up areas exactly as they are around you. The completely new rendering engine shows the world around you in high detail and with global illumination so lights behave like real lights.

Air Traffic Control will guide you from startup to shut-down and also controls the other aircraft around you. Those other aircraft are not robotic as they are in other simulators, but they interact with the world in the same way as your own aircraft does. They will fight the same cross winds and turbulence as you encounter, they will need more runway to stop when the weather conditions are not favorable. Just like real pilots do, you will watch their take-off to be prepared for what your take-off will be like. It's still simulated but it gets very close to real aviation!

X-Plane 10 is built with the future in mind and makes full use of the hardware in your system. If you own a fast multi-core machine you will be able to simulate more aircraft around you and see more details but even with a moderate machine X-Plane 10 is capable of displaying a tremendous amount of objects without slowing down.
Features:
• Super accurate flight characteristics using a virtual wind tunnel
• Includes 30 aircraft, from gliders to the Space Shuttle
• Online flying with other virtual pilots
• Air Traffic Control actually controls the other aircraft around you
• Detailed terrain for the whole world including very accurate altitude data
• 'Plausible World' auto-generated scenery that includes almost every road
• New rendering engine with innovative global lighting system (first for flight simulation)
• Totally flexible and extendable with thousands of existing add-ons (and many more to come)
• Global version - includes highly detailed scenery for Nice (LFMN), Paderborn-Lippstadt (EDLP) and Faro (LPFR)