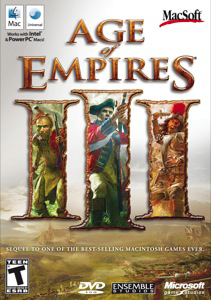 Products
Age of Empires III (Box): £39.99

System requirements:
DVD drive
Mac OS X 10.3.9
1.2GHz G4
2GB HDD
512MB RAM
3D graphics card 64MB VRAM
I agree with the
privacy policy
.
Age of Empires III
Become the leader of one of eight civilizations in the New World
In this highly anticipated next instalment in the Age of Empires franchise, Age of Empires III places players in the time period of roughly 1500-1850, picking up where Age of Empires II: The Age of Kings left off. As players work to establish their empire, they will take on the role of a European power struggling to explore, colonize and conquer North and South America.
Age of Empires III introduces exciting new gameplay elements, including the all-new Home City and an incredible combat system. Players will find new civilizations to discover, random maps to conquer and a single-player campaign unlike any other. Players also will find stunning graphics as a result of a revolutionary graphics engine that pushes the limits of Mac graphics technology in an entirely new way.

Engage in epic strategic battles. As players control the action, they can experience a new level of exciting combat with realistic physics effects, and have the option of engaging in battle with blades, gunpowder or both. Victory depends on the player's strategic battle plan.

Develop and strengthen a unique, customized Home City. The Home City represents a player's capital back in Europe and plays a supporting role in the attempt to control the New World. The better the player performs in the New World, the more powerful his Home City becomes. Players can customize their Home City to reflect unique personality traits, making the Home City a vital character in the game.

Explore a vibrant New World. Players can take advantage of elements of the colonial time period, including the ability to ally with Native Americans. They also can explore and find new resources in the Amazon rain forest, recover buried treasure from Caribbean islands, hunt bison on the Great Plains, compete to establish trade routes, and fortify the coast of New England.

Experience stunning graphics as you witness new lighting effects and shadows while immersed in a world that feels bright and sunny, yet which has a softness and depth that is revolutionary to Mac games. Thanks to the new physics engine, players will never see the same scene twice.

Discover culturally diverse civilizations. Gamers can play as the British and have a stellar economy, or play as the French and easily ally with Native Americans. They can choose to play as the Spanish and have more support from their home country in Europe. Players have the option of playing as one of eight civilizations and, whichever one is chosen, players are guaranteed a unique and fulfilling experience.
Features:
Explore uncharted territories to stake your claim in the New World
Command powerful rifled infantry and a naval fleet
Gain valuable experience to level-up your Home City and strengthen your economy, technology, and military
Lead one of 8 civilizations: Spanish, French, British, Dutch, Russian, German, Portuguese, and Ottoman
Fully 3D graphics, destructible environments and dynamic physics
UNIVERSAL BINARY: Works with both Intel and PowerPC Macs