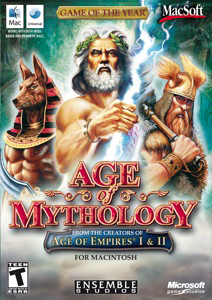 Products
Age of Mythology (Box): £39.95

System requirements:
Mac OS X 10.2.8
500MHz G4
1GB HDD
256MB RAM
GeForce2 MX/Radeon 7000 32MB VRAM
I agree with the
privacy policy
.
Age of Mythology
An age when heroes battled with monsters.
In Age of Mythology, you've entered an era where military strength and the favor of the gods was all-important! Play as either the ancient Greeks, Norse or Egyptians. All three are vying for control of the world, and you must help your chosen side to succeed!
Features:
Develop armies, handle diplomacy and manage trade to build & control more territory
Technology combines with supernatural power as you improve your sciences and call upon the ancient gods
Rain down lightning on an opposing army, demolish enemy camps with earthquakes, and sink a navy with a tidal wave -- you'll see it all happen real-time, with detailed special effects
Reinforce your armies with over 20 legendary monsters
Gorgeous in-game cinematics develop a deep and immersive tale of honor and revenge