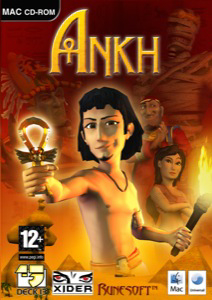 Products
Ankh (download): £8.95
Ankh 2 Heart of Osiris (download) (Box): £8.95

System requirements:
Mac OS X 10.3.9
Linux
1GHz G4
512MB RAM
3D graphics card 32MB VRAM
Download version requires an Intel Mac and Mac OS X 10.6 or better



Important: Does not work with macOS 10.15 (Catalina) and above

I agree with the
privacy policy
.
Ankh
Ankh - Part 1 of the thrilling adventures
A new comic adventure in the tradition of classics like Monkey Island and Sam & Max! Animated Egyptian adventure game for children and adults of all ages. A humorous dialogue and cinematic soundtrack - a cast of characters similar to Disney's Aladdin.
Features:
A beautiful 3D Adventure game, with a gripping, interactive story line
Thematic soundtrack
Beautiful ancient structures
Talk or bargain with unique characters
Rich environments