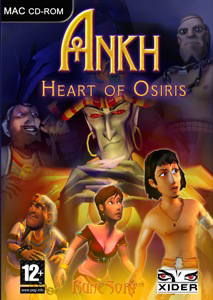 Products
Ankh (download): £8.95
Ankh 2 Heart of Osiris (download) (Box): £8.95

System requirements:
DVD drive
Mac OS X 10.3.9
1.4GHz G4
1GB HDD
512MB RAM
3D graphics card 64MB VRAM



Important: Does not work with macOS 10.15 (Catalina) and above

I agree with the
privacy policy
.
Ankh 2 Heart of Osiris
Old Cairo becomes alive again - very intense and highly bizarre!
Osiris is back! And this time he's in no mood for games.

This time he will not fail. This time Osiris will show the world of humans what, he's made of. But the Ankh alone is not enough - not as long as he hasn't found the most important part of his body: his heart.

Life has not been kind to Assil. Only three weeks ago he managed to ward off his death curse. Since then his relationship (with Thara) has hit the rocks and the Ankh was stolen from him (by sinister assassins). Assil sets out to get it all back - and to once again face Osiris.

He is not the only victim, however - there is another: the pharaoh! One moment he sits on his throne, lazy, sluggish and with a heck of a hangover, the next he is a slave in his own quarry - how could this have happened? And more importantly: how is he going to get out of this without getting killed?

Ankh: Heart of Osiris is even more intense and more bizarre as it takes the player even deeper into the crazy world of old Cairo. You'll meet a lot of familliar faces, but of course there are plenty of new surprises too!

Aside from familliar locations, like the bazaar, there will be plenty of new locations for the player to explore - such as the quarry and the large arena with all its dark, convoluted catacombs.

And of course the black humour of the first game can be found in the sequel! Once again, old Egypt and its inhabitants are turned upside down and given a good seeing to.
Features:
Classic adventure game
A completely new and zany story in new, strange and fascinating locations
A brand new exciting story
Get to know new characters and familiar faces
Sophisticated graphics with dynamic light, shadow and glow effects
Supreme voice acting
Cinematic full-motion sequences
And, as always, pitchblack humour