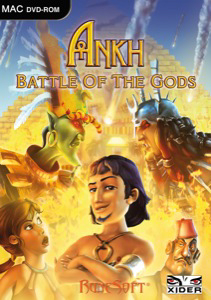 Products
Ankh (download): £8.95
Ankh 2 Heart of Osiris (download) (Box): £8.95

System requirements:
DVD drive
Mac OS X 10.5
1.7GHz Intel Mac Core Solo
1.1GB HDD
512MB RAM
3D graphics card 128MB VRAM
GeForce7300 or better/Radeon 2400HD or better
Internet access for productregistration



Important: Does not work with macOS 10.15 (Catalina) and above

I agree with the
privacy policy
.
Ankh 3 Battle of the Gods
Ankh 3 - Assil's latest challenge to save the world.
As already announced in previous episodes: Experience the epic "Battle of the Gods"! It's about ruling the whole world this time, and guess who is once again the only person on earth who can prevent the worst from happening: Assil, of course, the butter-fingered wearer of the Ankh. This time the journey takes us to Luxor, the city of gambling casinos and games of chance, but we head for a remote region in the frosty north, too. As if that weren't enough of a surprise: This time it looks as if Assil and Thara are going to get some support from the Ankh, which has received a life of its own.
Features:
Completely new locations, with both new and familiar but revised characters
New elements of surprise keep the series fresh and innovative
First-class dubbing, excellent soundtrack and proven quality