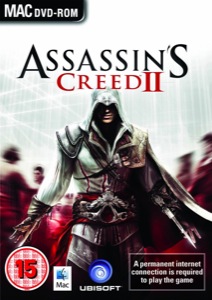 Products
Assassin's Creed II (Box): £9.99

System requirements:
DVD drive
Mac OS X 10.5
Mac OS X 10.6
Windows XP
Windows Vista
Windows 7
3000MB RAM
PROCESSOR: Intel Core 2 Duo 3.06 GHz
VIDEO CARD: 256 MB Dedicated Shader model 3.0 or higher (ATI RADEON HD 4000/5000 series,
NVIDIA GeForce® 100/200 series)
HD: 9 GB
PERIPHERALS SUPPORTED: Keyboard, mouse.
INTERNET CONNECTION: Broadband Internet connection with 128 kbps upstream or faster
I agree with the
privacy policy
.
Assassin's Creed II
Epic action adventure in renaissance Italy
Renaissance Italy isn't the usual sort of setting for a video game, but then Assassin's Creed isn't one to play by the rules. Ezio Auditore di Firenze is yet another ancestor of modern day Desmond Miles - a nobleman out to avenge the death of his family in the guise of a shadowy assassin.

Like the last game you're given total freedom to explore multiple cities, but with greatly improved parkour skills and the new ability to swim. There's also a lot more variety in the missions you undertake - the main complaint with the original game- so you'll never feel you're just doing the same tasks over and over again.

Combat has also been completely overhauled, with dozens of different weapons and a new health system. With no less than Leonardo da Vinci acting as your very own Q style gadget master this stunning sequel improves on every element of the original.
Features:
Ezio, a new assassin for a new era
Ezio Auditore da Firenze is a young Italian noble who will learn the ways of the assassins after his family was betrayed and he looks to seek vengeance. He is a lady's man, a free soul with panache yet has a very human side to his personality. Through him, you become a master assassin.
Play as an all-new character in 15th century Italy, with new abilities, new weapons and a whole new world to explore.
Massively improved mission variety, with new freeform mission structures and many more random events.
All-new combat system lets you steal weapons from your opponents, use dual hidden blades and even an early form of pistol.
Meet historical figures such as Leonardo da Vinci, Niccolò Machiavelli and Lorenzo de' Medici, all of whom can offer you their own unique brand of aid.
Explore real world locations including Rome, Venice, Florence and Tuscany, as well as specific landmarks such as the Grand Canal and St Mark's Basilica.
Perfect your skills to become a master assassin where you brandish new weapons, learn to disarm enemies then use their weapons against them, and assassinate enemies using both hidden blades.
You will be able to perform missions when you want and how you want in this open-ended world that brings back free-running and adds elements such as swimming and even flying to the adventure. The variety in gameplay adds another layer for you to truly play through the game any way you choose.
Discover a living, breathing world where every character is an opportunity for the player. Blending in with the crowd is easier, working with in-game characters provide ample rewards but can also lead to surprising consequences.