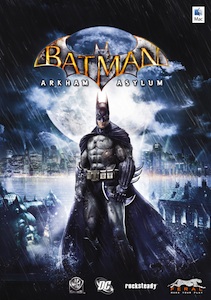 Products
Batman: Arkham Asylum (Box): £13.99
Batman: Arkham City Game of the Year Edition (Box): £14.99

System requirements:
DVD drive
Mac OS X 10.6
Mac OS X 10.7
2GHz Intel Mac Core Duo
10GB HDD
128MB VRAM
The following graphics cards are not supported: ATI X1xxx series, NVIDIA 9400, NVIDIA 7xxx series and Intel GMA series. The following cards require you to have 4GB of System RAM: NVIDIA 320M, Intel HD 3000
Download version does not require a DVD drive.



Important: Does not work with macOS 10.15 (Catalina) and above

I agree with the
privacy policy
.
Batman: Arkham Asylum
Welcome to the Madhouse!
Descend into the core of the criminally insane as the Joker seizes control of Arkham Asylum and launches his most diabolical plot ever. The inmates of Arkham have been set free - and it's up to Batman to bring order to the chaos and take back the asylum.

Using his combat skills, stealth and gadgets, it's up to Batman to thwart Joker's fiendish plans before it's too late. Batman: Arkham Asylum lets you explore the depths of Arkham Island as you experience the darkest journey of Batman's life.
Features:
Square off against some of Gotham's most notorious lunatics, including Harley Quinn, Killer Croc and Poison Ivy.
Deploy an arsenal of upgradable gadgets, from a remote-control Batarang to a grappling gun and explosive gel.
Use Detective Mode to identify important objects and reveal enemies' weak spots.
Deliver brutal combos with the innovative FreeFlow™ combat system.
Move in the shadows and strike fear amongst your enemies.
Solve the Riddler's devilishly difficult puzzles to unlock challenge levels and trophies.
Face Batman's darkest fears in hallucinogenic nightmares induced by the Scarecrow's toxic gas.
Explore Arkham Island and discover its gruesome secrets through hidden items and character biographies.
Winner of numerous awards including BAFTA Game of the Year and Outstanding Achievement in Game Design awards from the Academy of Arts & Sciences.
Written by Paul Dini and featuring the voice talents of Mark Hamill and Kevin Conroy.
Conquer six additional challenge maps and even play as the Joker! Batman: Arkham Asylum on the Mac contains all the DLC and expansion packs.
BATMAN: ARKHAM ASYLUM Software © 2009-2011 Warner Bros. Entertainment Inc. Developed by Rocksteady Studios Ltd. Published for the Mac by Feral Interactive Ltd. under license from Warner Bros. Entertainment Inc. Rocksteady and the Rocksteady logo are trademarks of Rocksteady Studios Ltd. Powered by Unreal Engine. Unreal ® is a registered trademark of Epic Games, Inc. Unreal ® Engine, Copyright 1998-2011, Epic Games, Inc. Uses FMOD Ex Sound System. Firelight Technologies. Uses Scaleform GFx © 2009-2011Scaleform Corporation. Portions of this software utilize SpeedTree® RT technology (© 2007-2011 Interactive Data Visualization, Inc.). SpeedTree® is a registered trademark of Interactive Data Visualization, Inc. Mac and the Mac logo are trademarks of Apple Inc. registered in the U.S. and other countries. Feral and the Feral logo are trademarks of Feral Interactive Ltd. All other trademarks and copyrights are the property of their respective owners. All rights reserved.