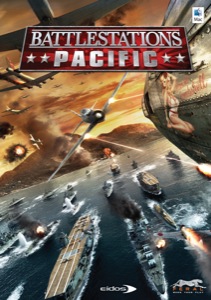 Products
Battlestations: Pacific (Box): £13.99

System requirements:
DVD drive
Mac OS X 10.5
1.4GHz Intel Mac Core Duo
9GB HDD
2048MB RAM
256MB VRAM
Battlestations Pacific does not support the following graphics cards: ATI X1xxx series, NVIDIA 7xxx series and Intel GMA series.
If you encounter problems playing the game, please visit support.feralinteractive.com and contact our support team. This allows us to deal with your issue quickly, and helps us to improve our games.
File size: 9.0 GB (approx)



Important: Does not work with macOS 10.15 (Catalina) and above

I agree with the
privacy policy
.
Battlestations: Pacific
Battle your way to victory on land, sea and air.
Battle your way to victory on land, sea and air in this unique combination of action and strategy. Relive the key battles of the Pacific by leading the US forces from the Battle of Midway to Okinawa or else take command on the Imperial Japanese forces and change the course of World War II by destroying Pearl Harbor and expanding the Empire of the Sun across the ocean to Hawaii. Battlestations Pacific strikes a fine balance between the advanced tactics required to command entire battles and the adrenaline-pumping action of air and naval combat. It is an accessible, well-rounded and substantially improved sequel to Battlestations Midway.
Features:
Twice the size - Lead the US and Japanese forces in two massive campaigns to relive or rewrite history, with up to 28 missions to play through!
Master your fleet - Command and take direct control of over 100 authentic and prototype air, sea and undersea units including fighters, bombers, kamikaze planes, cruisers, destroyers, aircraft carriers, submarines and lots more.
Immerse yourself - Put yourself in the middle of the action with the all new cockpit view and fight the enemy at day, night and in different weather conditions.
New level of realism - Experience a new level of visual realism where the Pacific Ocean and its chains of islands truly come to life.
Bigger online battles - Challenge your friends in 5 completely new and engaging multiplayer modes and take part in massive online battles.