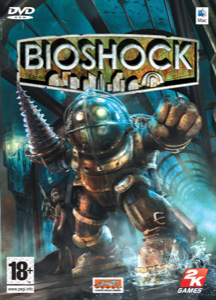 Products
BioShock Infinite: Clash in the Clouds (download): £2.99
Bioshock Infinite: Columbia's Finest (download): £2.99
BioShock Infinite: Burial at Sea - Episode 1 (download): £10.49
BioShock Infinite: Burial at Sea - Episode 2 (download): £10.49
BioShock (Box): £13.99
BioShock 2 (Box): £13.99
BioShock Infinite: Season Pass (download): £13.99
BioShock Infinite (download): £19.99

System requirements:
DVD drive
Mac OS X 10.5
1.4GHz Intel Mac Core Duo
8GB HDD
1500MB RAM
128MB VRAM
BioShock does not support Intel GMA series graphics cards.
Ryan Industries recommends against the use of Incinerate and Winter Blast plasmids while playing BioShock, and takes no responsibility for melted or frozen keyboards.
File size: 8.0 GB (approx)



Important: Does not work with macOS 10.15 (Catalina) and above

I agree with the
privacy policy
.
BioShock
BioShock is the amazing Genetically-Enhanced, First-Person Shooter
Welcome to Rapture. A city where opportunity awaits those brave enough to grasp it. A city where the artist need not fear the censor. Where the scientist is not bound by petty morality. Where the great are not held back by the weak.

BioShock - one of the greatest games of all time - is now on the Mac.

Set in an alternate 1960, BioShock places you in the middle of an underwater utopia gone badly wrong. With a provocative and intelligent storyline, this is a game that is alternately beautiful, thrilling, funny, frightening and always involving. An experience that makes you think while you play.

Download and try the BioShock demo from our Demo or Download link on the right.
Features:
Award-winning - BioShock has won numerous game of the year awards and features in Metacritic's top 10 highest rated games of all time.
Genre blender - Combines a clever mix of genres: First-person shooter with elements of role-playing and stealth.
Superb visual style - An art deco world with advanced visual effects combine to create a creepy, immersive environment in which players can lose themselves.
Sophisticated concept and story line - BioShock incorporates ideas about science and politics, raising profound questions about human nature, the role of government in society, and the morality of harming individuals for the greater good.
Replayability - No two gamers will play BioShock the same way. Players are encouraged to explore all the nooks and crannies of Rapture.
Exquisite sound design - Outstanding voice acting helps drive the narrative. Music from the 1940s and 1950s echoes through Rapture's abandoned hallways.