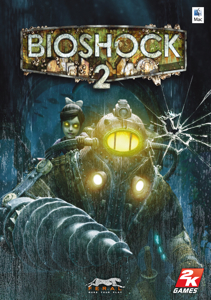 Products
BioShock Infinite: Clash in the Clouds (download): £2.99
Bioshock Infinite: Columbia's Finest (download): £2.99
BioShock Infinite: Burial at Sea - Episode 1 (download): £10.49
BioShock Infinite: Burial at Sea - Episode 2 (download): £10.49
BioShock (Box): £13.99
BioShock 2 (Box): £13.99
BioShock Infinite: Season Pass (download): £13.99
BioShock Infinite (download): £19.99

System requirements:
DVD drive
Mac OS X 10.9
2GHz Intel Mac Core Duo
16GB HDD
4096MB RAM
256MB VRAM
The following graphics cards are not supported: ATI X1xxx series, ATI HD2xxx series, NVIDIA 9400, NVIDIA 7xxx series and Intel GMA series.



Important: Does not work with macOS 10.15 (Catalina) and above

I agree with the
privacy policy
.
BioShock 2
Welcome back to Rapture. Paradise reborn.
Deep within the ruined undersea city of Rapture, your beloved Little Sister, Eleanor, awaits your return. As her Big Daddy, you protected her from a world of insanely selfish adults, now you must shield her again from those who demand that everything must be shared.

Ten years after the events of BioShock, Rapture has fallen under the control of a collectivist cult who plan to transform Eleanor into a genetically-engineered messiah, who will put an end to individuality forever. To save her, you must deploy a unique combination of shooting, role-play and stealth as you rampage through Rapture's leaking halls to confront her captors.

Whether you choose to forgive those who threaten Eleanor or wreak vengeance upon them, remember, she is always watching and will follow your example.
Features:
Embark on an intense journey through one of the most disturbing fictional worlds ever created in this hauntingly imaginative sequel to BioShock.
Become the Big Daddy and unleash the raw power of Rapture's most feared inhabitant against deadly new enemies such as Brute Splicers and the vengeful Big Sisters.
Dual wield your abilities: fire powerful weapons with your right hand while deploying gene-altering plasmids with your left.
Choose whether to adopt Little Sisters and protect them from splicers, or harvest them for the genetic material they carry.
Explore the sea bed as a Big Daddy and view Rapture's breathtaking architecture from the outside.
Engage in all-out civil war online! BioShock 2 contains a completely separate multiplayer game set during the Fall of Rapture.
© 2002-2011 Take-Two Interactive Software and its subsidiaries. Developed by 2K Marin, 2K Australia, 2K China and Digital Extremes. BioShock, 2K Games, 2K Marin, 2K Australia, 2K China, the 2K Games logo, the 2K Marin logo, the 2K Australia logo, the 2K China logo and Take-Two Interactive Software are all trademarks and/or registered trademarks of Take-Two Interactive Software, Inc. Digital Extremes and its logo are trademarks of Digital Extremes. Unreal® is a registered trademark of Epic Games, Inc. Unreal® Engine, Copyright 1998-2011, Epic Games, Inc. All rights reserved. BioShock 2 uses Havok®, Copyright 1999-2011 Havok.com, Inc. (and its Licensors). All Rights Reserved. See www.havok.com for details. Mac and the Mac logo are trademarks of Apple Inc. registered in the U.S. and other countries. Feral and the Feral logo are trademarks of Feral Interactive Ltd. All other marks and trademarks are the property of their respective owners. All rights reserved.