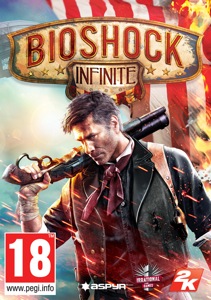 Products
BioShock Infinite: Clash in the Clouds (download): £2.99
Bioshock Infinite: Columbia's Finest (download): £2.99
BioShock Infinite: Burial at Sea - Episode 1 (download): £10.49
BioShock Infinite: Burial at Sea - Episode 2 (download): £10.49
BioShock (Box): £13.99
BioShock 2 (Box): £13.99
BioShock Infinite: Season Pass (download): £13.99
BioShock Infinite (download): £19.99

System requirements:
Mac OS X 10.8
2.2GHz Intel Mac Core Duo
30GB HDD
4096MB RAM
Radeon HD3870 512MB VRAM
Supported Video Cards: NVIDIA GeForce® 640M, 650M, 660M, 675MX, 680MX. ATI Radeon HD 3870, HD 4850, HD 5670, HD 5750, HD 5770, HD 5870, HD 6750, HD 6770, HD 6970. Intel HD Graphics 4000
Gamepad support: Bioshock Infinite supports both the Xbox 360 wired gamepad AND the that
Other Requirements: Initial installation requires one-time Internet connection for Steam authentication; software installations required (included with the game) include Steam Client.
Internet Connection and acceptance of Steam™ Subscriber Agreement required for activation. See www.steampowered.com/agreement for details
NOTICE: The following video chipsets are unsupported for Bioshock Infinite: ATI RADEON HD 2000 Series, ATI RADEON HD 4670, ATI RADEON HD 6490M, 6630M, NVIDIA 9000 Series, NVIDIA 320M, 330M, Intel HD 3000, Intel Integrated GMA 950, Intel Integrated x3100
NOTICE: This game is not supported on volumes formatted as Mac OS Extended (Case Sensitive)



Important: Does not work with macOS 10.15 (Catalina) and above

I agree with the
privacy policy
.
BioShock Infinite
Uncover the dark secret of Columbia
Indebted to the wrong people, with his life on the line, veteran of the U.S. Cavalry and now hired gun, Booker DeWitt has only one opportunity to wipe his slate clean. He must rescue Elizabeth, a mysterious girl imprisoned since childhood and locked up in the flying city of Columbia. Forced to trust one another, Booker and Elizabeth form a powerful bond during their daring escape. Together, they learn to harness an expanding arsenal of weapons and abilities, as they fight on zeppelins in the clouds, along high-speed Sky-Lines, and down in the streets of Columbia, all while surviving the threats of the air-city and uncovering its dark secret.
Features:
The City in the Sky. Leave the depths of Rapture to soar among the clouds of Columbia. A technological marvel, the flying city is a beautiful and vibrant world that holds a very dark secret. 
Whip, Zip, and Kill. Turn the city's Sky-Lines into weaponized roller coasters as you zip through the flying city and dish out fatal hands-on punishment. 
Tear Through Time. Open Tears in time and space to shape the battlefield and turn the tide in combat by pulling weapons, turrets, and other resources out of thin air. 
Vigorous Powers. Throw explosive fireballs, shoot lightning, and release murders of crows as devastatingly powerful Vigors surge through your body to be unleashed against all that oppose you. 
1999 Mode. Upon finishing BioShock Infinite, the player can unlock a game mode called "1999 Mode" that gives experienced players a taste of the kind of design and balance that hardcore gamers enjoyed back in the 20th century.