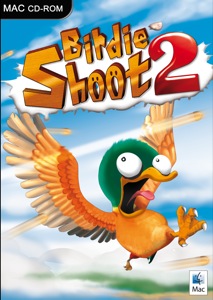 Products
Birdie Shoot 2 (download): £9.95 (£10.49)
Birdie Shoot 2 (Box): £19.99

System requirements:
Mac OS X 10.5
Mac OS X 10.7
1.7GHz Intel Mac Core Solo
512MB RAM
64MB VRAM



Important: Does not work with macOS 10.15 (Catalina) and above

I agree with the
privacy policy
.
Birdie Shoot 2
Grab your gun - A virus is spreading!
People, get out your shotguns!

The birds are affected by some malicious virus and all healthy ones are in danger. The infested ones are contracting everything that flies.

Save the birds, grab your gun and take out the ill birds before it is too late. Do not shoot at everything that moves, some of them are still healthy. A fried chicken is waiting for you as a reward.
Features:
Four different landscapes for you to hunt in
Several kinds of birds and animal species in varying sizes
Funny sound effects, animations and gimmicks
Four difficulty levels plus a championship mode
Many hidden bonuses
Savable highscores