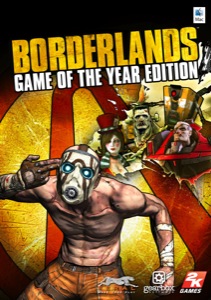 Products
Borderlands 2: TK Baha's Bloody Harvest (download): £1.49
Borderlands 2: Sir Hammerlock vs. the Son of Crawmerax (download): £1.49
Borderlands 2: Mercenary Day (download): £1.99
Borderlands 2: Ultimate Vault Hunters Upgrade Pack (download): £2.99
Borderlands 2: Creature Slaughter Dome (download): £2.99
Borderlands 2: Ultimate Vault Hunter Upgrade Pack 2: Digistruct Peak Challenge (download): £2.99
Borderlands 2: Tiny Tina's Assault on Dragon Keep (download): £6.99
Borderlands 2 - Mechromancer (download): £6.99
Borderlands 2 - Mr. Torgue's Campaign of Carnage (download): £6.99
Borderlands 2 - Sir Hammerlock's Big Game Hunt (download): £6.99
Borderlands 2 - Captain Scarlett and her Pirate's Booty (download): £6.99
Borderlands 2: Psycho Pack (download): £6.99
Borderlands: The Pre-Sequel Handsome Jack Pack (download): £6.99
Borderlands: The Pre-Sequel UVHUP & The Holodome Onslaught (download): £6.99
Borderlands: The Pre-Sequel Lady Hammerlock the Baroness (download): £6.99
Borderlands: The Pre-Sequel: Claptastic Voyage und Ultimate Vault Hunter Upgrade Pack 2 (download): £6.99
Borderlands 2 (download): £13.99
Borderlands: Game Of The Year Edition (Box): £19.99
Borderlands: The Pre-Sequel Season Pass (download): £19.99
Borderlands 2 Season Pass (download): £19.99
Borderlands: The Pre-Sequel (download): £29.99
Borderlands 2: Game of the Year Edition (download): £34.99

System requirements:
DVD drive
Mac OS X 10.6
1.4GHz Intel Mac Core Duo
12GB HDD
1024MB RAM
128MB VRAM
Borderlands does not support the following graphics cards: ATI X1xxx series, NVIDIA 7xxx series and Intel GMA series.
If you encounter problems playing the game, please visit support.feralinteractive.com and contact our support team. This allows us to deal with your issue quickly, and helps us to improve our games.
Players using an Apple Mighty or Magic mouse may prefer to use Toggle Mode for using weapon sights. Instructions on how to enable this are available in the Borderlands section of our support site: support.feralinteractive.com.
The Dahl Corporation wishes all settlers a prosperous new life on Pandora, but takes no responsibility for personal set-backs resulting from a developing social climate. Personal set-backs may include depression, regret, hacking cough, wildlife-based injury, bandit raids, and death.
File size: 10.0 GB (approx)



Important: Does not work with macOS 10.15 (Catalina) and above

I agree with the
privacy policy
.
Borderlands: Game Of The Year Edition
Bloodthirsty bandits. Vicious monsters. Tonnes of loot.
Bloodthirsty bandits. Vicious monsters. Tons of loot. Lock, Load and face the madness. Gearbox Software's acclaimed sci-fi hit comes to the Mac complete with all four add-on packs. Borderlands is a unique hybrid of first person shooter and role-playing game with a super sharp visual style and a compelling 4 player co-op mode.

Planet Pandora is a sparsely populated wasteland where the rule of law gets rewritten daily in the smoke of the last gun battle. Civilization consists of small outposts on the fringe of human influence, in an area called the Borderlands. Pandora?s one tourist attraction is a mythical Vault supposedly packed with fantastic riches.

Fortune hunters, corrupt corporate mercenaries and lowlife hoodlums roam the landscape, searching under every grain of sand for the treasure. Since most intelligent life on Pandora has the occupation of Vault Hunter, society has gone to hell - making the outposts and outback areas more than just a little dangerous.
Features:
Unique hybrid role playing shooter that combines frantic first-person shooting action with accessible role-playing character progression.
Super sharp graphics style gives Borderlands a unique comic book come-to-life look.
Co-op Frenzy - drop in and out with up to 4 player co-operative for a maniacal multiplayer experience
Millions of randomly generated guns! Choose your weapon from rocket-launching shotguns, enemy-torching revolvers, and tons more.
Huge single-player game with four playable characters and endless replayability.
Contains all 4 add-on packs adding enormous value to an already amazing game.