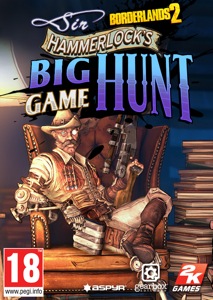 Products
Borderlands 2: TK Baha's Bloody Harvest (download): £1.49
Borderlands 2: Sir Hammerlock vs. the Son of Crawmerax (download): £1.49
Borderlands 2: Mercenary Day (download): £1.99
Borderlands 2: Ultimate Vault Hunters Upgrade Pack (download): £2.99
Borderlands 2: Creature Slaughter Dome (download): £2.99
Borderlands 2: Ultimate Vault Hunter Upgrade Pack 2: Digistruct Peak Challenge (download): £2.99
Borderlands 2: Tiny Tina's Assault on Dragon Keep (download): £6.99
Borderlands 2 - Mechromancer (download): £6.99
Borderlands 2 - Mr. Torgue's Campaign of Carnage (download): £6.99
Borderlands 2 - Sir Hammerlock's Big Game Hunt (download): £6.99
Borderlands 2 - Captain Scarlett and her Pirate's Booty (download): £6.99
Borderlands 2: Psycho Pack (download): £6.99
Borderlands: The Pre-Sequel Handsome Jack Pack (download): £6.99
Borderlands: The Pre-Sequel UVHUP & The Holodome Onslaught (download): £6.99
Borderlands: The Pre-Sequel Lady Hammerlock the Baroness (download): £6.99
Borderlands: The Pre-Sequel: Claptastic Voyage und Ultimate Vault Hunter Upgrade Pack 2 (download): £6.99
Borderlands 2 (download): £13.99
Borderlands: Game Of The Year Edition (Box): £19.99
Borderlands: The Pre-Sequel Season Pass (download): £19.99
Borderlands 2 Season Pass (download): £19.99
Borderlands: The Pre-Sequel (download): £29.99
Borderlands 2: Game of the Year Edition (download): £34.99

System requirements:
Borderlands 2 is required to play this add-on content
Internet Connection and acceptance of Steam™ Subscriber Agreement required for activation. See www.steampowered.com/agreement for details

I agree with the
privacy policy
.
Borderlands 2 - Sir Hammerlock's Big Game Hunt
Tally-ho!
In Sir Hammerlock's Big Game Hunt, the third campaign add-on for Borderlands 2, players will enter an uncharted territory deep in the swamps of Pandora where a massive Hyperion ship has crashed. The wreckage is rumored to have stockpiles of loot.

But watch out, mutated creatures, and armies of savages also have an interest in the ship. As ferocious and primal as they may seem, the mysterious Professor Nakayama claims to be their diabolical leader, and he's calling all the shots.
Features:
The Best Guns in Borderlands 2 Yet: This safari trip ain't just 'bout taking down big game with huge, senselessly overpowered weapons. It's also about hunting for new loot in an effort to glean Seraph crystals, and get even bigger guns to take back into the main game.
Defend Hammerlock's Hacienda: Seek out Sir Hammerlock and his rustic hunting lodge, man the turrets and fan boats to take out enemy vehicles, babysit Hammerlock's pet Skag and wait for him to... ewwww.
To Hunt and be Hunted: Face a new Raid Boss, new World Bosses, mutant creatures great and greater, and waves of foul-odor-ed heathen hoards. In the swamp, no one can hear your smell.
All New Swamp Location: Alien vegetation, marshy water, scraggly mountains, and rolling mist form a dangerous and exotic zone, all in an as-of-yet-unseen part of Pandora.
New Heads & Skins: Spoils are awarded to those who seek out and defeat the rarest enemies in the Swamps. If it's on the endangered species list; kill it immediately, because it's all about you.