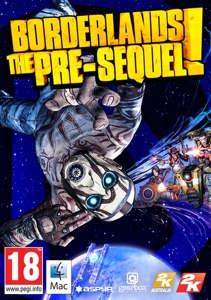 Products
Borderlands 2: TK Baha's Bloody Harvest (download): £1.49
Borderlands 2: Sir Hammerlock vs. the Son of Crawmerax (download): £1.49
Borderlands 2: Mercenary Day (download): £1.99
Borderlands 2: Ultimate Vault Hunters Upgrade Pack (download): £2.99
Borderlands 2: Creature Slaughter Dome (download): £2.99
Borderlands 2: Ultimate Vault Hunter Upgrade Pack 2: Digistruct Peak Challenge (download): £2.99
Borderlands 2: Tiny Tina's Assault on Dragon Keep (download): £6.99
Borderlands 2 - Mechromancer (download): £6.99
Borderlands 2 - Mr. Torgue's Campaign of Carnage (download): £6.99
Borderlands 2 - Sir Hammerlock's Big Game Hunt (download): £6.99
Borderlands 2 - Captain Scarlett and her Pirate's Booty (download): £6.99
Borderlands 2: Psycho Pack (download): £6.99
Borderlands: The Pre-Sequel Handsome Jack Pack (download): £6.99
Borderlands: The Pre-Sequel UVHUP & The Holodome Onslaught (download): £6.99
Borderlands: The Pre-Sequel Lady Hammerlock the Baroness (download): £6.99
Borderlands: The Pre-Sequel: Claptastic Voyage und Ultimate Vault Hunter Upgrade Pack 2 (download): £6.99
Borderlands 2 (download): £13.99
Borderlands: Game Of The Year Edition (Box): £19.99
Borderlands: The Pre-Sequel Season Pass (download): £19.99
Borderlands 2 Season Pass (download): £19.99
Borderlands: The Pre-Sequel (download): £29.99
Borderlands 2: Game of the Year Edition (download): £34.99

System requirements:
Mac OS X 10.9
2.4GHz Intel Mac Core Duo
13GB HDD
4096MB RAM
ATI Radeon HD 2600 / NVidia Geforce 8800 / Intel HD 4000
The following video chipsets are unsupported for Borderlands: The Pre-Sequel : ATI RADEON HD 2400, NVIDIA 8600m, NVIDIA 9400m, 9600m, Intel Integrated GMA 950, Intel Integrated x3100



Important: Does not work with macOS 10.15 (Catalina) and above

I agree with the
privacy policy
.
Borderlands: The Pre-Sequel
Shoot 'n' Loot your way to the Moon!
Discover the story behind Borderlands 2 villain, Handsome Jack, and his rise to power. Taking place between the original Borderlands and Borderlands 2, the Pre-Sequel gives you a whole lotta new gameplay featuring the genre blending fusion of shooter and RPG mechanics that players have come to love.

Float through the air with each low gravity jump while taking enemies down from above using new ice and laser weapons. Catch-a-ride and explore the lunar landscape with new vehicles allowing for more levels of destructive mayhem.
Features:
BRING MAYHEM TO THE MOON: Feel the moon's low gravity with every jump and stomp. Cause mayhem with new weapons equipped with ice and laser capabilities! New enemies offer a space-based twist!
THE RISE OF HANDSOME JACK: Witness Handsome Jack's rise to power. Dive deep into the origins of iconic Borderlands villains. Turn the tables and experience Handsome Jack's side of the story.
A NEW CLASS OF ANTI HEROES: Play as one of four new character classes, including Wilhelm the Enforcer, Nisha the Lawbringer, and Athena the Gladiator. Play as a combat-ready Claptrap prototype for the first-time! Experience the gray morality of working alongside Handsome Jack.