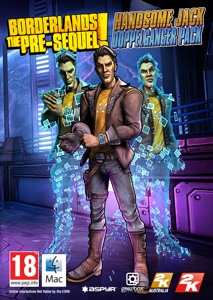 Products
Borderlands 2: TK Baha's Bloody Harvest (download): £1.49
Borderlands 2: Sir Hammerlock vs. the Son of Crawmerax (download): £1.49
Borderlands 2: Mercenary Day (download): £1.99
Borderlands 2: Ultimate Vault Hunters Upgrade Pack (download): £2.99
Borderlands 2: Creature Slaughter Dome (download): £2.99
Borderlands 2: Ultimate Vault Hunter Upgrade Pack 2: Digistruct Peak Challenge (download): £2.99
Borderlands 2: Tiny Tina's Assault on Dragon Keep (download): £6.99
Borderlands 2 - Mechromancer (download): £6.99
Borderlands 2 - Mr. Torgue's Campaign of Carnage (download): £6.99
Borderlands 2 - Sir Hammerlock's Big Game Hunt (download): £6.99
Borderlands 2 - Captain Scarlett and her Pirate's Booty (download): £6.99
Borderlands 2: Psycho Pack (download): £6.99
Borderlands: The Pre-Sequel Handsome Jack Pack (download): £6.99
Borderlands: The Pre-Sequel UVHUP & The Holodome Onslaught (download): £6.99
Borderlands: The Pre-Sequel Lady Hammerlock the Baroness (download): £6.99
Borderlands: The Pre-Sequel: Claptastic Voyage und Ultimate Vault Hunter Upgrade Pack 2 (download): £6.99
Borderlands 2 (download): £13.99
Borderlands: Game Of The Year Edition (Box): £19.99
Borderlands: The Pre-Sequel Season Pass (download): £19.99
Borderlands 2 Season Pass (download): £19.99
Borderlands: The Pre-Sequel (download): £29.99
Borderlands 2: Game of the Year Edition (download): £34.99

System requirements:
Borderlands: The Pre-Sequel base game required to play this content.
IS NOT compatible with the App Store version of BL: TPS

I agree with the
privacy policy
.
Borderlands: The Pre-Sequel Handsome Jack Pack
Play as the hero (?) that Pandora and Elpis deserve
Play as everyone's favorite maniacal tyrant-in-training...or at least his body double. With the Handsome Jack Doppelganger Pack, use the power of your good looks and charm to distract your enemies into submission. Or, just cut them down to size with your witty banter. Or just shoot them. That works too.