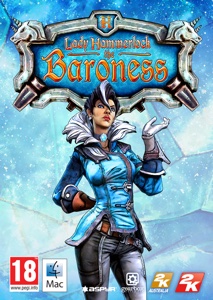 Products
Borderlands 2: TK Baha's Bloody Harvest (download): £1.49
Borderlands 2: Sir Hammerlock vs. the Son of Crawmerax (download): £1.49
Borderlands 2: Mercenary Day (download): £1.99
Borderlands 2: Ultimate Vault Hunters Upgrade Pack (download): £2.99
Borderlands 2: Creature Slaughter Dome (download): £2.99
Borderlands 2: Ultimate Vault Hunter Upgrade Pack 2: Digistruct Peak Challenge (download): £2.99
Borderlands 2: Tiny Tina's Assault on Dragon Keep (download): £6.99
Borderlands 2 - Mechromancer (download): £6.99
Borderlands 2 - Mr. Torgue's Campaign of Carnage (download): £6.99
Borderlands 2 - Sir Hammerlock's Big Game Hunt (download): £6.99
Borderlands 2 - Captain Scarlett and her Pirate's Booty (download): £6.99
Borderlands 2: Psycho Pack (download): £6.99
Borderlands: The Pre-Sequel Handsome Jack Pack (download): £6.99
Borderlands: The Pre-Sequel UVHUP & The Holodome Onslaught (download): £6.99
Borderlands: The Pre-Sequel Lady Hammerlock the Baroness (download): £6.99
Borderlands: The Pre-Sequel: Claptastic Voyage und Ultimate Vault Hunter Upgrade Pack 2 (download): £6.99
Borderlands 2 (download): £13.99
Borderlands: Game Of The Year Edition (Box): £19.99
Borderlands: The Pre-Sequel Season Pass (download): £19.99
Borderlands 2 Season Pass (download): £19.99
Borderlands: The Pre-Sequel (download): £29.99
Borderlands 2: Game of the Year Edition (download): £34.99

System requirements:
Mac OS X 10.9
Mac OS X 10.10
2.2GHz Intel Mac Core 2 Duo
13GB HDD
GeForce 8800/Radeon HD2600 256MB VRAM
Gamepad support: Borderlands: The Pre-Sequel supports the Playstation 4 Dualshock 4, the Playstation 3 Dualshock 3 Wireless Controllers, the Xbox 360 for Windows (wired) and the Xbox One (wired) controllers
NOTICE: Requires that the full version of Borderlands: The Pre-sequel already be installed on your Mac via Steam.  
NOTICE: Lady Hammerlock Pack is NOT compatible with the App Store version of Borderlands: The Pre-Sequel
Other Requirements: Initial installation requires one-time Internet connection for Steam authentication; software installations required (included with the game) include Steam Client. Internet Connection and acceptance of Steam™ Subscriber Agreement required for activation. See www.steampowered.com/agreement for details
NOTICE: The following video chipsets are unsupported for Borderlands: The Pre-Sequel: ATI RADEON X1000 Series, ATI RADEON HD 2400, NVIDIA 8600m, NVIDIA 9400m, 9600m, Intel Integrated GMA 950, Intel Integrated x3100
NOTICE: This game is not supported on volumes formatted as Mac OS Extended (Case Sensitive)



Important: Does not work with macOS 10.15 (Catalina) and above

I agree with the
privacy policy
.
Borderlands: The Pre-Sequel Lady Hammerlock the Baroness
She's cold as ice!
Introducing Sir Hammerlock's sister, Lady Aurelia the Baroness! Nobody's as cold as she is, literally, as her "Cold-As-Ice" action skill inflicts tons of cryo damage on the baddies of Elpis. She can also turn any co-op partner into a servant using her Contractual Aristocracy skill tree. Nothing stands a chance against this frozen-hearted aristocrat!