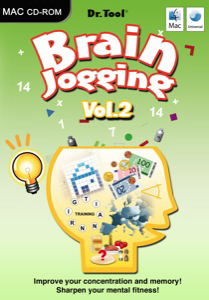 Products
Dr. Tool BrainJogging Vol. 2 (Box): £19.99

System requirements:
Mac OS X 10.4.11
Mac OS X 10.7
1.7GHz G4/ Intel Mac Core Solo
256MB RAM
64MB VRAM



Important: Does not work with macOS 10.15 (Catalina) and above

I agree with the
privacy policy
.
Dr. Tool BrainJogging Vol. 2
Dr. Brain waiting for brains to be activated and developed
Seriously, you did not really believe that one game of "Brain-Jogging" would be sufficient to keep your brain sharp, did you? A smart trot is not bad, but breaking into a gallop is better!

Power up and get mentally sweaty with "Dr. Tool® Jogging Volume 2". All the classic challenges like the Slider Puzzle, the Thinkbox, the Recipe Planer and the Route Calculation were revamped while new ones like Nonograms and Campixu were added. If you like to juggle with figures, you can look forward to Sudoku and Prime Factorization.

The trusted three-stage training program and the following challenges have been retained unchanged, as well as the detailed evaluation of your performance that shows your strengths and weaknesses.

An easy on the eyes contrast option has been added to "Dr. Tool® Jogging Volume 2". That mode displays fewer colors and less gradients.
Features:
Three difficulty levels
Challenge and Training modes
Available statistics
Comprehensive evaluation of every game you played including your achievements, your performance and your efficiency