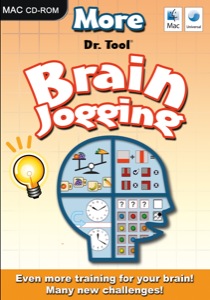 Products
Dr. Tool Brainjogging (Box): £19.99

System requirements:
Mac OS X 10.3.9
800MHz G4
256MB RAM
32MB VRAM



Important: Does not work with macOS 10.15 (Catalina) and above

I agree with the
privacy policy
.
Dr. Tool Brainjogging
Dr. Brain jogging and brain training
Sly fox, studious student or brainy genius? How do you judge your "Brain Fitness? Entertaining, yet with a scientific claim "Train your Brain with Dr. Kawashima" will help you to keep your grey matter in shape or - if needed - will get them moving again!
By performing the "Daily Test" you can measure your brain fitness and climb to ever higher scales, eventually becoming a royal brain. Practice regularly from the pool of exercises in four categories: Calculation, Logic, Vision and Memory. You will undoubtedly notice progress after practice.
Dr. Kawashima and his cute little assistant Robo will support you in any aspect of the game. They will be at your side whenever you need them, explaining the different exercises and illustrating the scientific background of each exercise. They will motivate you to keep moving and to care about your mental fitness.

Besides the individual training you can practice together with family and friends on your computer in the so called Hot-Seat mode - one after the other everyone takes his/her turn and enjoys the social dynamics of playing games. But you are not limited to playing with friends at your home computer. You can meet fellow players online in very easily accessible multiplayer matches. Simply hit the multiplayer button to be entered into a match online or make an appointment with friends via the integrated buddy list to play with them. As easy as it is, the online mode is great fun for everyone whether young or old, tall or small!

Have you finished all your brain exercises and the "Daily Test" for the day? That's good. Now you deserve to relax a bit and enjoy some more casual gaming. Try one of the 100 Sudokus, prepared exlusively for this game by the inventor of Sudoku, the Japanese company Nikoli, or have a go with Brainstorm - a vivid and exciting puzzle game.

Many more features like extensive rankings and statistics, leaderboards, a trophy room and a very helpful reminder tool are waiting for you as part of this truly unique brain training game. Enjoy!


Features:
Officially approved by Dr. Kawashima
The premier quality product for PC brain training games
For PC and Mac OS
30 specially designed exercises including 12 exercises accessible from the beginning, 12 exercises which can be unlocked during the course of the game and 6 exercises for the "Daily Test" to measure your brain fitness
2 bonus games: Sudoku + Brainstorm, an arcade puzzle
Detailed scientific background information for each exercise
Dynamic difficulty adaptation for each exercise
Comprehensive and detailed rankings and statistics
Elaborate help system accessible throughout the game
Trophy room for achievements
Profile management to allow for multiple players
Hot-Seat mode, i.e. mutiplayer mode on the same computer
Easy-access online multiplayer mode including picture chat and buddy lists
Online competitions
Highly attractive 3D graphics and avatars: Dr. Kawashima and Robo
Interactive communication between Dr. Kawashima and player
Easy and intuitive user interface driven by the Dr. Kawashima/Player interaction
Offline reminder tool to ensure regular and successful training
Auto-patching