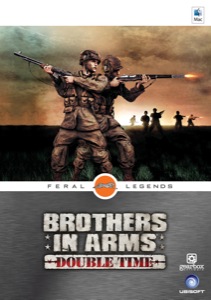 Products
Brothers in Arms: Double Time (Box): £10.49

System requirements:
DVD drive
Mac OS X 10.6
1.4GHz Intel Mac Core Duo
9GB HDD
1024MB RAM
128MB VRAM
File size: 9.0 GB (approx)



Important: Does not work with macOS 10.15 (Catalina) and above

I agree with the
privacy policy
.
Brothers in Arms: Double Time
Tactical shooter game based on a true story
Real Soldiers. Authentic battlefields. True combat.

Based on a true story, Brothers In Arms Double Time brings the first two episodes in Gearbox Software's critically acclaimed WWII tactical shooter series to the Mac.

Play as Sergeant Matt Baker and Corporal Joe Hartsock, leading your squad behind enemy lines through the Normandy invasion. Gritty, authentic and innovative, Brothers In Arms Double Time offers a visceral, emotionally-charged experience of infantry combat.
Features:
30+ playable levels: Brothers In Arms: Double Time combines the complete stories of the first two Brothers In Arms games. Fight through the D-Day invasion and the following days in Normandy.
Unprecedented authenticity: Fight actual Airborne Infantry D-Day battles with historically accurate battlefields, events, and equipment recreated from Army Signal Corps photos, Aerial reconnaissance Imagery and eyewitness accounts.
Real Military Tactics: Find, Fix, Flank, and finish your enemies like a real WWII Squad leader.
Issue orders: Commanding and leading your squad has never been more realistic on the Mac.
Players of all skill levels can battle their way through this intense experience because of Brothers in Arms innovative and accessible command and control system.