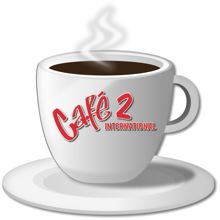 Products
Café International Solo iOS: FREE
Café International for Android: £2.69
Café International for iOS: £2.99
Café International 2 (Mac/Win): £4.99

System requirements:
Mac OS X 10.6
Windows 98/ME/2000/XP
Windows Vista/ Windows 7/ Windows 8
1GHz Intel Mac Core Solo
512MB RAM
Display must support 32bit colour and at least 1024*768 pixels
Buy in the Mac App Store



£4.99 • $6.99 • 5.99 Euro





I agree with the
privacy policy
.
Café International 2 (Mac/Win)
The strategic board game for the family.



The legendary game (Board Game of The Year 1989 Germany, over one million sold) is back, a fun and challenging strategic board game for your Mac!

You are the owner of the Café International and are the host to a multitude of guests from diverse countries. Your task is to earn reputation (and score points) by skillfully seating the various patrons at the bar and tables.

Using the officially licensed caricatures from the original board game, you'll find that not every guest wants to sit next to each other in Café International. So it's up to you to keep everyone happy, by seating them at the right tables, according to their nationality and gender to score maximum points.

Every puzzle fan will simply love Café International! Although the rules are straightforward and the game is easy to play, it's sure to challenge even the most strategically gifted minds. To be awarded maximum points, you'll need to clear as many tables as possible by really thinking about where to seat your randomly chosen guest cards...

Café International is packed with endless fun - it's the perfect way to test your strategic might against friends, family and colleagues!


Features:
Additional variants of the game
Network- and Internet-gaming for up to 4 players
Guests can be seated at the bar
Local and online highscores
Choose the character you want to play
24 guests of 12 nations + 2 jokers